10 Things I Said My Children Would Never Do
by Christina Antus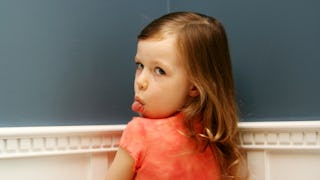 killerb10 / iStock
The people who can raise a perfectly well behaved child are those people who don't have any children. You know who these people are because they don't have dried pudding on their jeans. There wasn't a toddler close enough to quietly put a booger in their hair while they struggled to adjust the cart seat strap.
Before I had kids, I was also an expert on raising children. Here are some of my "expert declarations" and a brief rundown of my "actual" findings:
1. My kids will never behave that way in public.
By "behave," I meant they'd never throw tantrums in the store. Those hysterical fits that sound like they're being chased down the cereal aisle by an actual shark. When tantrums actually happen in public, I react the way anyone in my situation would. I ask random people if these are their kids. Or, I'll whisper to the people next to me: "I'm the nanny." Occasionally I compliment my children on their form as they thrash and contort their body in ways that defy both human biology and physics.
2. I will never leave the house looking like that.
Oh, but I do. It's not that I don't care about how I look. I mean, mostly I don't really care how I look, but a lot of times I actually forget to do things like brush my hair or put on makeup or brush my teeth. I have, however, never forgotten pants. You're welcome.
3. My kids will not eat crappy food.
My toddlers are picky. So, getting them to eat anything that isn't a sticker or a crayon is a small victory. If they pass on green beans and carrots and choose to inhale chicken nuggets or pepperoni, it's an amen-arm raising-hallelujah-kind of moment. I always toss in a gummy vitamin twice a day, this is how I live without guilt.
4. My house will never look like that.
My house looks like a Build-A-Bear Workshop exploded in it. There are stuffed animals, clothes and toy parts scattered everywhere. I've learned that cleaning up after kids while they're awake is like trying to clean up splattered food from an open blender, that's still running. It's exhausting. The only way my house will ever be clean is if it spontaneously combusts.
5. I will never be late anywhere.
The slowest my children ever move is when we have to go anywhere that has a start time. On any given day, my kids burn around the house like their pants are on fire. They move with the energy of 80 toddlers, breaking the sound barrier as they circle the dining room table for the billionth time. The second I have to be anywhere, time goes backwards. It turns into negative time. That's how long it takes them to get to me, -15 minutes. Don't get me started on putting coats and shoes on. Let's just say that no one can put their arm through the coat holes when they're too busy trying to put their shoes on their ears.
6. I will never negotiate with my children.
Negotiation is a powerful tool. It gives my children the chance to exercise decision making. Thus pushing them towards successful independence. Just kidding. It gives me my way. For example, if little Susie wants ice cream, she has to eat three more chicken nuggets. If she doesn't eat them, everyone else at the table gets ice cream. Raising a child is like a business. It's all about incentives. Okay, maybe it sounds more like bribing. To-may-toe. To-mah-toe.
7. I will not allow my children to watch TV.
During winters such as these, when your family is one snowflake away from mumbling themselves into full-fledged cabin fever, TV is a sanctuary. A magical box that emits irresistible sounds and colors that buy me at least 15 minutes of motionless activity. Where I can resume banging my head against the wall without interruption.
8. I will never get annoyed by my children.
Sometimes I initiate a game of hide and seek that I don't tell anyone else about. Then, I'll hide in places where a 3-year old would never think to look, like inside the dryer. And I eat candy.
9. I won't let my kids stop me from traveling.
Taking a trip to Target requires more items than settlers needed for the westward expansion. If our forefathers had mostly toddlers in tow, they'd have made it as far as Ohio before one of them realized they left a toy behind. After the meltdown was over, everyone would mutually agree that Ohio was "west" enough. We do travel now that we have kids, but I'm not up for discussing our experiences. I'm still trying to sort it all out in therapy.
10. My kids will listen to me.
I honestly believe that early childhood development doesn't include the ability to listen. Hear, yes. Listen, no. For whatever reason, no one hears me until I'm in full blown auctioneer mode, rattling words off at 115 decibels. By the time anyone in my house responds, I've sold a sheep and four tractors at a farm auction six counties away.
There's nothing more humbling than becoming a parent. There's no experience in life that challenges your character, patience and endurance like raising children. Well, maybe surviving the Alaskan wilderness in the winter after being chased by a pack of ravenous wolves is more challenging. Hopefully those wolves were chasing you at -40 miles per hour and mostly kept their boogers to themselves.
This article was originally published on