20 Things To Do in Atlanta With Kids
by Allie Smith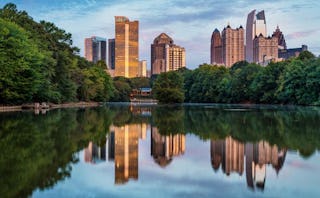 Atlanta is a culturally diverse city, rich with fun — and there are lots of things to do in Atlanta with kids. We have it all – museums full of history, art, music, science, amusement, parks, lakes and mountains. The only thing we don't have, sadly, is the ocean.
I consulted with my mom friends to make sure the list contains the best things to do in Atlanta. Here's what we came up with as the must-do and must-see things to do with kids in Atlanta.
Atlanta Kids Attractions
Zoo Atlanta is one of only four zoos in the country to feature the giant panda – in fact, Atlanta's zoo has SIX of them! In the summer of 2013, Lun Lun gave birth to the first set of panda twins born in the United States since 1987. They're so cute. Zoo Atlanta also has the country's largest zoological collection of gorillas and orangutans. The children's area is called Outback Station and features Australian wildlife and a cool petting zoo for the kids.
Skyview Atlanta Ferris Wheel is the newest attraction in the Atlanta area. It is a gigantic Ferris wheel, similar to the ones on Navy Pier in Chicago and Pier 57 in Seattle. The Ferris wheel is located in Centennial Olympic Park, which is the city park commemorating the 1996 Olympic Games. VIP gondola riders get to skip the line!
The World of Coke offers a fun and unique version of the history of Coke through a guided tour of exhibits of artifacts, memorabilia, art and film. You can also get a behind-the-scenes view of the bottling process. The kids will get to meet the Coca-Cola Polar Bear. Fair warning – there is a tasting room, with every flavor of Coke ever made. You can taste old favorites (Tab! Fresca! New Coke!), or experiment with the Cokes manufactured in different countries throughout the world (some will make your toes curl). It's a free-for-all and your children will be bouncing off the walls when you leave.
You'll also want to visit the Georgia Aquarium. Not to brag or anything, but Atlanta has the world's largest aquarium. The aquarium is home to hammerhead sharks, whale sharks and beluga whales and approximately 100,000 other animals! Words cannot adequately describe what it's like to walk through the acrylic tunnel, in the middle of a tank, and have manta rays swim over your head! The Dolphin Tales Theater is a must-see, but be sure to make a reservation. The show is an amazing choreographed extravaganza combining dolphins, humans, costumes and music into a live event!
For the little builder in your family (or maybe big builder if mom or dad are into it too!), LEGOLAND Discovery Center Atlanta is a wonderful place to spend an afternoon. It's only a walk or shuttle bus ride away from Phipps Plaza (where you'll want to do a little shopping) and is open every day, rain or shine, with more than 12 activities and attractions inside the park for the whole family including a 4D cinema, laser ride and Pirate Adventure Island. LEGOLAND Discovery Center Atlanta is best for kids ages 3-10.
Six Flags Over Georgia is about ten miles west of downtown Atlanta, but only open with a full schedule during the summer, when school is out (which in Georgia means Memorial Day to the first weekend of August). Honestly, there are way too many rides to name, but they have something for everyone: thrill seeker rides, family rides and kiddie rides. There's always some entertainment, so check the schedule, but Bugs Bunny and Friends are usually cruising through the park.
Kids Restaurants in Atlanta
While it may not be quite what you picture for an evening of fine dining, Medieval Times Dinner & Tournament is great if you're looking for kid restaurants in Atlanta. It's dinner theater at its best, with thrilling entertainment for the whole family. Medieval Times is family-friendly, I promise, and a popular venue for kid birthday parties. While enjoying an authentic medieval feast served over four courses, you'll be transported back to 11th century Spain. The show is two hours and features a jousting tournament, complete with knights, maidens and live horses!
If the smell of horses while you eat isn't quite your thing, you can check out Uncle Maddio's Pizza which boasts that it is the OG "create your own" pizza joint. If your palette is craving Mexican food in Atlanta, you may want to dine at Bone Garden Cantina. The artwork and atmosphere are truly something to see and the menu is inspired by traditional street food. Not to mention this place has agave margaritas — yum!
Atlanta Kids Museums
If museums are sure to be your family's favorite thing to do in Atlanta, there are lots of wonderful options to experience. Atlanta is rich in history, from the Civil War to the civil rights era. The Atlanta History Center, a history museum and research center which is in the heart of Buckhead, is a great place to visit. In addition to the museum, there are two historical homes on the property, a live working farm and blacksmith shop. The gardens – Boxwood Garden, Quarry Garden and Rhododendron Garden, are spectacular (especially in the spring). The museum itself houses the largest collection of civil war artifacts in the United States and the Centennial Olympic Games Exhibit honoring the 1996 Summer Olympics, which the city hosted. The Center also owns the Margaret Mitchell House, which is only 5 miles away and contains the Gone With the Wind movie museum.
There's also the award-winning Fernbank Museum of Natural History; don't let the name fool you – (I'm embarrassed to admit that once upon a time I thought it was an actual fern museum) if you have a dinosaur lover, this is the place for you. The Dinosaur Plaza and the Giants of the Mesozoic are permanent exhibits, and there are lots of opportunities for hands on learning as well. The Tellus Science Museum also has its own set of fossils, along with a planetarium, mineral gallery & a Science in Motion exhibit. My kids love the fossil dig. If you have time for more science destinations, visit the beautiful Atlanta Botanical Gardens.
But perhaps one of the best museums for kids in Atlanta is the Children's Museum of Atlanta (obviously). This hands-on discovery museum has tons of exhibits for kids about food, science, and the world around us. There are things to climb, create and so much more.
Parks in Atlanta, Georgia
Stone Mountain Park is a true sight to see. When you fly into Atlanta, from the air you'll see a massive mound of rock, east of the city, better known as Stone Mountain. I won't try to explain its origin, because I don't really understand it, but geologists love studying its history. The mountain can be easily climbed, with many hiking trails to choose from. You can also ascend by Swiss cable car (beautiful vistas) or take the more leisurely scenic train ride. There are so many activities to enjoy: duck boat rides, miniature golf, fishing and multiple picnic areas. If you visit at night, you can watch the Lasershow Spectacular, which is – as the name suggests, spectacular.
If you're a fan of the great outdoors, the beautiful North Georgia Mountains are only about an hour's drive north of the city, but well worth it. According to Atlanta Magazine, the mountains are the site of America's first major gold strike. If you visit in the fall, you'll be rewarded with the spectacular colors of the changing leaves.
A visit to Burt's Pumpkin Farm is a must, as is their hayride. Spring, summer or fall, you can hike at Amicalola Falls State Park, which boasts the tallest cascading waterfall in the southeast. Consolidated Gold Mines is also in the North Georgia mountains. You can take a walking tour of the mines (dress appropriately, it gets chilly) and pan for gold, which is a lot of fun. There's also gemstone mining and a lapidary studio, where you can turn your rough stone into a sparkling gem.
There are so many more wonderful parks and outdoor activities for families to see around Atlanta, including Sweetwater Creek (which is great for hiking and, when the water's low, you can walk across), Piedmont Park (known as Atlanta's Central Park) and Kennesaw Mountain. But if you enjoy breathtaking views you shouldn't leave Atlanta before checking out Cloudland Canyon. One of the largest parks in the state, Cloudland has deep canyons, caves, cliffs, creeks and waterfalls. It is also home to many hiking and mountain biking trails.
MORE: Things to Do in Austin With Kids
Things to Do in Boston With Kids
Things to Do in Houston With Kids
This article was originally published on