Watch This 100-Year-Old Woman's Epic Take Down Of School Book Bans
"Banning books and burning books are the same."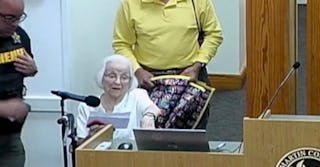 Marin County School Board / TikTok
Book banning has been around for centuries. In fact, the first book ban in the United States is said to have taken place as early as 1637.
Whether due to religious extremism or political views from the opposite side of the aisle, certain books have been the target of book banners for decades.
In recent years, attempts at banning certain books from schools and libraries has become even more common practice, with 2022 setting record highs for book banning and challenging attempts in schools and libraries across the nation.
While book banning might be the hot topic of the moment, for Florida residents like 100-year-old Grace Linn, this has been a years long battle.
Linn, Martin County resident and widow of a World War II veteran, spoke at the Martin County School Board meeting, bringing 100 years worth of hard-won wisdom and experience to the table.
"I am Grace Linn. I am 100 years young," the centenarian said. "I'm here to protest our schools' district book-banning policy."
She went on to explain that her husband, Robert Nickel, was a World War II veteran, killed in action at just 26 years old.
"One of the freedoms that the Nazis crushed was the freedom to read the books they'd banned," she said. "They stopped the free press, banned and burned books."
She went on to say that reading whatever material a person wants is an essential right guaranteed by the First Amendment. However, there are people "who think they hold the truth" working to remove those rights.
"I care about this community and our country," Linn said.
Linn then shared a quilt that she made last year with each square representing a stack of books with titles of books that have been banned and targeted, including Harry Potter, A Wrinkle in Time, Of Mice and Men, and The Color Purple.
"When I showed this to adult women, they'll say, 'Oh, no they didn't do that to The Color Purple.'"
The quilt's purpose, she said, was "to remind all of us that these few of so many more books that are banned and targeted need to be proudly displayed and protected—and read, if you choose to."
Linn's speech made it clear that, in her view, Florida Gov. Ron DeSantis and rightwing groups are out of line in their attempts to ban books. DeSantis has approved laws to review reading materials and limit classroom discussion of gender identity.
The law will force all elementary schools to provide a searchable list of every book available in their libraries or used in instruction.
He also approved certain books to be pulled, including John Green's Looking for Alaska and Margaret Atwood's The Handmaid's Tale.
"Banning books and burning books are the same. Both are done for the same reason. Fear of knowledge. Fear is not freedom. Fear is not liberty. Fear is control," she said. "My husband died as a father of freedom. I am a mother of liberty. Banned books need to be proudly displayed and protected from school boards like this. Thank you very much."
The clip of Linn's impassioned speech went viral after novelist Jodi Picoult shared the Martin County School Board meeting clip to her TikTok account, garnering almost 1 million views. Picoult herself has been spoken out against book banning in Florida schools, including several titles she has written herself.
Ninety-two books were pulled from school shelves in Florida's Martin County School District; 20 of those titles were ones she had written, she said.
"Thank you, Grace, for reminding us that this is a part of history we must not repeat," Picoult wrote in her TikTok caption.