11 Inspiring People Who Lost It All and Came Back Stronger
by Bill Murphy Jr.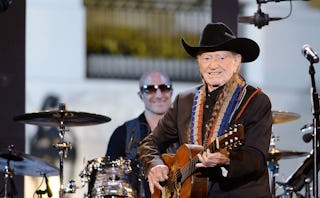 I was sympathetic. We've all been there. Still, I gave her my usual, Pollyanna-ish spiel: Bad endings portend good beginnings; failure is fun when it's done right; it's always darkest before the dawn. I'm sure I annoyed the heck out of her. Nobody who's down really wants to hear that stuff—and yet, it's true.
There's a long list of people who have lost everything and come back far stronger. So in honor of my friend (and everyone else who's facing tough times), here are a few amazing and inspiring examples:
1. Steve Jobs
I think most people know this story, but it's important to have on the list. Jobs co-founded Apple at age 21, and was worth millions by age 23. He recruited an experienced Fortune 500 CEO, John Sculley—and three years later, Sculley fired him.
© Justin Sullivan
"I didn't see it then, but it turned out that getting fired from Apple was the best thing that could have ever happened to me," Jobs said in 2005. He started his second company, NeXT, which was ultimately acquired by Apple—and Jobs became CEO again. Fast-forward: You're probably reading this on an iPhone or a MacBook.
2. Ulysses S. Grant
Grant was the 18th president of the United States. He saved the Union during the Civil War. Yet he led a life full of highs and lows. A West Point graduate, he left the Army after being accused of drinking on duty. Then he struggled for seven years, barely able to support his family.
© Hulton Archive/Getty
When war broke out, Grant went back into the army, first as a volunteer, then as a colonel, and eventually as the top U.S. general. Wait, there's more—Grant was elected president, but he later burned through his money. He was flat-out broke, and ultimately had to write his memoirs on his deathbed in order to provide for his family. The publisher? Mark Twain. Speaking of whom…
3. Mark Twain
Recalled now as one of the greatest American writers, Twain made some bad, bad business decisions and had some unlucky investments. He was broke and bankrupt by 1894—20 years after he became super-famous as the author of The Adventures of Tom Sawyer.
© Topical Press Agency/Getty
He moved his family to Europe, went on a grueling speaking tour, and wrote prolifically. Ultimately, he made enough money to restore his fortune and repay all of his creditors, even though his debts had legally been discharged in the bankruptcy. (Sadly, Twain later suffered more tragedy and fell into a deep depression, after the death of his wife and two of his daughters.)
4. Martha Stewart
Back in this century, Stewart, the founder of the company that bears her name, was America's first self-made female billionaire. Five years after her company went public, however, Stewart went to prison for conspiracy as part of the ImClone stock case. And then she went gently into that good night…
© Cindy Ord/Getty
Heck no, she didn't! Stewart launched her comeback campaign immediately after her release. Her company was profitable again within a year, and she rejoined its board of directors in 2011. She currently serves as chairman.
5. Dorothy Hamill
Hamill won gold in figure skating at the 1976 Winter Olympics, and parlayed her performance into a $1 million-a-year income as a professional performer. However, "after years of excessive spending, which included a weakness for expensive jewelry, and a series of bad investments, including the purchase of the fledgling Ice Capades franchise," according to Kiplinger, she filed for bankruptcy in 1996.
© Stephen Lovekin/Getty
Did she work hard and come back? You bet your double-axel, she did. She kept skating, went on television, and sold a memoir. A few years later, she appeared in the 2007 movie Blades of Glory with Will Farrell.
6. James Altucher
Altucher founded a Web design company called Reset Inc. in 1996, and sold it two years later for $10 million. Then, he lost everything in a series of bad investments that were exacerbated by the first tech bubble in 2000.
© James Altucher/Wikimedia
After nearly committing suicide, Altucher said in an interview with Glenn Beck that he eventually realized he couldn't judge his "self-worth by his net worth." He made back his fortune as a hedge fund manager, and is now a super-popular blogger and podcaster.
7. Stanley Kirk Burrell
You probably remember Burrell, right? If not, no problem. He's a little bit better known as MC Hammer, the early-1990s artist behind mega-hits like "U Can't Touch This" and "Too Legit to Quit." More than 50 million of us bought his records back then—but Burrell still managed to fall into debt. By the time he filed for bankruptcy in 1996, he owed $13 million.
I know, right?
© Justin Sullivan/Getty
Still, he rebounded, and since you're reading this I'm going to guess you'll love what he did—he became an entrepreneur. He launched record labels, invested in tech startups, and gave lectures and did TV appearances. He's also been a Christian speaker and has slowly rebuilt his music career.
8. Walt Disney
Wait, Walt Disney is on this list? Sure enough. His first company was an animation and film studio in Kansas City that went belly up in 1922.
© Hulton Archive/Get
Disney rushed out of the city for California, where his next venture, Disney Bros. Studio, did a little bit better—including creating a cartoon character you might have heard of: Mickey Mouse, in 1928.
9. George Foreman
Foreman, one of the greatest boxers in history, was an Olympic gold medalist and twice won the title of World Heavyweight Champion—including as a 45-year-old, coming out of retirement in 1994. (Thus, making him a perpetual hero to every guy between the ages of 35 and 44.)
© Dale de la Rey/AFP/Getty
In the years that followed, Foreman didn't quite go bankrupt, but he had a "close call" according to The New York Times after "squandering $5 million." He recovered in part by lending his name to the George Foreman Grill, which earned him an estimated $200 million.
10. Willie Nelson
One of the most popular artists in the history of American country music, Nelson recorded 68 studio albums, 30 of which achieved gold or platinum status. However, he ran into tax problems, and at the nadir of his troubles, he owed $32 million to the IRS after it emerged that his accountants hadn't properly paid his taxes for years.
© Olivier Douliery-Pool/Getty
He worked hard, recorded an album, did commercials—including one for H&R Block that made fun of his problems—and ultimately paid off his debts. He's been recording and touring ever since. Honestly, he's probably more popular now than he would have been if not for his troubles.
11. Cyndi Lauper
If you grew up in the 1980s, it's a known fact that you loved Cyndi Lauper. Between "Girls Just Wanna Have Fun" and "Time After Time," even "She Bop" and "True Colors," she wrote many of the anthems of the era. But, you might not know that before all that, she was part of a band called Blue Angel that had so little financial success that Lauper had to file for bankruptcy.
© Noam Galai/Getty
She recovered, recorded her songs, topped the charts, and became something of an icon. Most recently, in 2013, she won a Tony Award for the score she wrote for the Broadway musical "Kinky Boots" Recently, she was inaugurated into the Songwriters Hall of Fame alongside Toby Keith and the late Jerry Garcia.
A version of this article appeared previously on Inc.com.
This article was originally published on