11 Struggles Every Homebody Mom Faces
by Sarah Cottrell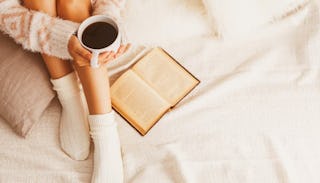 Are you a homebody mom? This is not to be confused with being a lazy mom or an anxious and anti-social mom. Homebody mom just really loves being home where she is comfortable and where sweatpants and ponytails are fashion forward. On a typical day the homebody mom will face at least one of these annoying struggles.
1. While staring at an email inviting you to a Moms Night Out you think to yourself that box wine, no pants and watching Big Brother sounds way more relaxing.
2. Your default answer to any non-food shopping related question is Amazon Prime.
3. When your sister-in-law invites you to her 17th It Works!, Rodan and Fields, Norwex, or Jamberry home party, you wonder how many times you can fake diarrhea before someone suggests a colonoscopy.
4. Your kid brought home a flyer from school inviting you to join the PTA. You think to yourself that this could be fun but only if all the meetings happen at your house, except then you'd have to clean, and possibly feed people. Nope.
5. You don't want to deprive your child of play dates so you beat the other moms to the punch and offer your house up for the next get-together, which you immediately regret because see bullet point #4.
6. You love the idea of going out and doing things with other people and so you make plans—with good intentions—and then when the date and time loom ever closer you freak out and find a quasi-legitimate way to cancel.
7. You have never actually had to hire a babysitter because you are always home.
8. You tell your well-meaning husband that a date night sounds great, but couldn't you just order in and watch that movie you rented from RedBox, like, 8 days ago but haven't had time to watch yet?
9. You try and fail to convince your kids that the sandbox, kiddie pool, and tricycle in the backyard is exactly like going to the park/beach/playground, so why not have fun at home?
10. When you do go out into public your inner dialog is asking annoying and repetitive questions like: can we leave yet? My underwire in my bra is hurting me. I have to pee. Can we leave and find the bathroom…at home?
11. During dinner functions, the holidays, and those RSVP events you said "yes" to, you find yourself constantly checking the clock and wondering when is a socially acceptable time to declare food poisoning before you swing by the pizza shop on your way home, and flip on the TV to see if you can catch the end of NCIS.
You know you are a homebody mom if you said "yes" to any of those 11 situations. It's not that you hate people (maybe you do), or that you are cheap (you probably are), it's just that being home is cozy and predictable, so why ever leave?
This article was originally published on