The Best Baby Floor Seats That'll Safely Let Your Little One Sit Up — Because Your Arms Are Ready, For God's Sake
We only recommend products we love and that we think you will, too. We may receive a portion of sales from products purchased from this article, which was written by our Commerce team.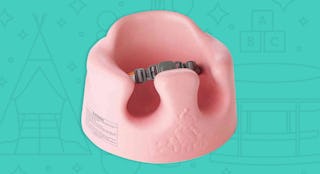 The best baby floor seats and sit-up seats help your little one easily transition to sitting up with less support once they've achieved this exciting milestone. Some infant seats sit right on the floor And, as it happens, it's helpful for parents, too. For starters, is there anything better than seeing your bb's chubby little thighs squished into a tiny baby chair? We think not. There's also nothing better than getting a few minutes hands-free to do all of the other fun mama stuff. (Laundry? Food prep? A pee break? You get it.) Enter, the baby floor seat, a sit-me-up alternative for little ones who need a change from lying down. While some sit directly on the floor, others are more propped up to give Baby a different vantage point. The decision is up to you, and both options are good ones!
As a side note: While those snug baby booster seats can certainly come in handy, be wary of relying on them too much, says Dr. Whitney Casares, author of The New Baby Blueprint: Preparing to Care for You and Your Little One and founder of modernmommydoc.com. She notes that they can start to restrict physical movement if used for extended periods of time and may be a safety risk. If you do choose to use an infant floor seat, she adds, make sure yours has a harness and never place it on an elevated surface like a chair, counter, or tabletop. "Your child learns best when they're interacting with you and free to move naturally," suggests Dr. Casares, so while bb's in her tiny throne, pop down on the floor for a quick storytime or play session, and don't forget to fit in some good ol' tummy time, too. After all, a change of scenery is good for everyone.
Wondering which one to get? From Fisher-Price to Hugaboo, infant chairs, seats with trays, and seats with toys, here are the best baby seats to choose from for those moments between play when you want to encourage sitting up.
Best Baby Floor Seats
There's a good chance that you've heard the name "Bumbo" before. It's a popular support chair that plenty of new moms trust. Contoured to help your baby sit up during play, this model is recommended for when your baby is old enough to hold their head up. A three-point safety harness is included, and it's available in over 12 colors. "Our daughter loves this seat," stated one reviewer. "We use it all the time. She enjoys feeling like she is a part of the family because the family will sit on the floor and watch a movie together and she will be right there with us."
If you're constantly outdoors, you might want to take a look at this Go With Me chair from Baby Delight. Ideal for kids from ages three onward (until they hit the limit of 75 pounds) this chair converts to keep up with your growing child. It includes a 5-point removable harness for babies and is available in five different colors.
When it comes to kid gear, Infantino is another trusted brand among parents. Just to make you fully aware, this one plays music. (For some parents, that can be a blessing. But others? No thanks.) This is a great seat and booster for curious kids who like to stay busy. It has six activities included, so you know they'll be busy and occupied during mealtime. You can pick this one up in lavender or blue.
Yes, technically there are two Bumbo products on this list. This Bumbo multiseat has all the benefits of the floor seat, but with added versatility. Always on the go? Bring along the multiseat to use as a travel high-chair for dinner at the grandparents', or take out the foam insert to use as a regular booster for your big kid. "The slick tray storage on the back blew my mind," said one parent on Amazon. "Great for when your kiddo is first learning to eat baby food, and I love that the straps for the full-size chair safety store nicely into a great package. I was impressed."
For many parents, this seat by Prince Lionheart has worked wonders. With its bright red color (it's also available in a stunning orange,) this chair is made of low-density foam, helping it become safer and more lightweight. There's also an activity center in front to keep your little one occupied.
Best Baby Sit Up Seats
Little Tikes has their own version of a Bumbo-esque seat, and many parents prefer this one — especially if their kids have wider legs, as the leg-holes in this model are a tad more forgiving. It's made from foam, can support up to 75 pounds, and is comfortable and secure. "My 7-month-old son loves this seat!" said one parent on Amazon. "It's surprisingly comfortable and soft, really fits him well, and certainly has more space than the bumbo, especially in the leg area for my son's chubby legs... The back support is also really good and appears to be very durable and steady on the ground without the chance of tipping." It's available in six colors.
The tough part about this safari seat is that you might not be able to get your child to want to leave it. As far as activities go, this seat is hard to beat. Especially since you can use this seat in three different ways. Each model comes with a soft foam seat insert, which will keep your baby comfortable and upright. The real issue here is, why don't they make these for adults? Adults like safaris too! (And if you responded with "not all adults," don't worry — this seat comes in three other versions you may dig more.)
With large leg grooves, the Upseat Baby Floor Booster Chair has been designated as safe for developing thighs (and yes, those oh-so-chubby legs). Whether it's feeding time or you just need a floor seat to keep them sitting upright, look no further. One Amazon reviewer shares, "We were recommended this product through the Down Syndrome Association of Greater St. Louis as a good seat for a child with DS. The seat back is taller than a Bumpo, and the tray is, too, which works well for a child with lesser muscle tone who may be unable to support herself without the higher back and tray. Cleanup is as simple as a wipe with a wet cloth on both the seat and tray. The whole unit can be strapped to a chair for even more stability though the base is pretty wide and we're yet to have any scares. Good product, especially for an infant with lesser muscle tone."
This plush floor seat will be super comfy for your little one (suggested ages 3 to 11 months). It features two toy attachments, 360 degrees of support, and is easy to care for. One reviewer said, "The Hugaboo is sturdy, soft, comfortable and can be placed anywhere he needs a seat. I would definitely buy again for gifts to others and recommend to others!"
Best Baby Chairs
If coziness is your top priority, this baby chair by SkipHop should top your list. It's a great chair for your baby to safely snack in, and has a nice fabric cover that's also machine washable (thankfully.) This chair is meant for kiddos who can hold their heads up, and can support a child up to 25 pounds. The floor model is the basic model — you can also get a version that has a full activity center.
This cute chair offers two sitting positions for infants ages 4-6 months (more reclined) and 6 months and up (a little straighter), and both help your little one stay engaged with their surroundings. "I like to put [the seat] in the kitchen while I'm cooking or washing dishes so she can be a part of the action," says Darcy on Amazon.
This seat, made of foam and plastic, just looks cool. And surely, your baby will agree. It starts as a baby booster, but can convert into a toddler seat when the time is right. It includes a removable BPA-free tray, and can support up to 50 pounds. Plus, it's got over 5,600 five-star reviews on Amazon from parents who simply can't live without it. "We love this seat!" exclaimed one reviewer. "Living in a one-bedroom condo, our space is at a premium, and we couldn't give up the room for a traditional high chair. This secures right onto one of our kitchen chairs, and the tray stores directly in the base, which makes it super convenient."
Behold, a floor seat that's ergonomically designed and cute enough to keep your little one occupied at home. This portable lion-themed seat will help your baby maintain an upright position at all times while encouraging interaction and play. It comes with a removable snack tray and two toys (a rattle and sliding clacker rings) for what will hopefully be hours of enjoyment. Oh, and because we know that BB can be messy, you'll be happy to know that the seat pad is removable and machine-washable. Perhaps our favorite part is the convenience factor: It folds flat so that you can carry it along to grandma's house.
This article was originally published on