The Best 30th Birthday Gifts That Will Make Her Feel Like The Queen She Is
by Emily Popp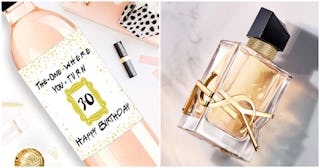 Turning 30 is a rollercoaster of emotions (exciting! stressful!), so when it comes to finding the best gifts for a 30th birthday you want to give her the perfect present. When you finally reach "the third floor," it's a big deal, so this milestone birthday deserves something extra thoughtful. And let's be honest: the Big 3-0 can feel like a thrill, but it also can be a bit of a bummer or a little stressful. Because yes, turning 30 means entering a new chapter filled with possibilities. But it also means saying goodbye to our carefree 20s and hello to 3-day hangovers. It can feel bittersweet. So all the more reason to give her something that makes her feel super loved.
Whether she's a beauty product hoarder, a pop-culture junkie, a foodie, a health nut or any personality type in between, we've pulled together the 30 best gifts for her 30th birthday. If you're going in on a more expensive group gift, we've got options for that. Or if you're working on a tighter budget, we have you covered, too.
Ahead, our picks for the best 30th birthday gifts for her.
Creative 30th Birthday Gifts for Her:
30th Birthday Gift Ideas for Your Best Friend:
30th Birthday Ideas for Your Wife: