What I Want My 4-Year-Old With Down Syndrome To Know
by Beth Ann Craver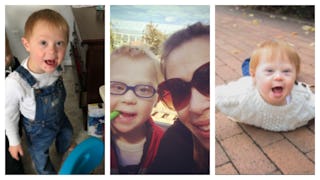 Bethann Craver
I've been wondering a lot about your birthday this year. I kept thinking to myself how I've said it all. How there's nothing new in the world of Down syndrome. How I've not only turned over every stone but have also dug deep in the earth below.
And then today, without warning, I opened my eyes and opened my Facebook. (This is something I have been vowing not to do as of late….so it serves me right I suppose.) I opened my page to find a headline so disturbing it brought me to tears before I could even bring myself to read it: People with Down syndrome are first humans to apply to be on Endangered Species List."
How dare the world shock me when I believed I was unflappable? When I believed I wore armor impenetrable by anything Down syndrome or disability. Well, my darling, four delicious years later and I can still be brought to my knees by my fierce and innate need to protect you.
You're still too young to understand this and, by God's grace, I hope the world changes before you are old enough to get it. But here is what they are saying about you:
They are saying that the world doesn't get you. That they are scared of you. That because you take a bit longer to walk and talk and learn, that you are not worthy of life. They are saying that you are being put on a special list to be preserved because you are rare. You are not rare because of your changing environment like the polar bear though, you are rare because people are choosing that you need to not exist.
You are rare baby. You are a rare gem; hidden, secret and shimmery. You invoke gladness and goodness and you have come here to shine.
You are rare. You read people like no other. You know when I need a hug, need to laugh and you knew to come here to save me. You taught me patience and what it's like to persevere in this world; to love this unfair world anyway.
You are rare in the way that you do not know how to be anything else but authentic. You can not pretend when you are frustrated. You don't people please or put on airs. That is rare.
Your infectious laughter is rare and the way you dance whenever you hear the music as if nobody else is watching. That is also rare.
What you have brought to our family is rare. You have given us the drive to protect those in need and the ability to see everyone's strengths.
The grandiose love I receive for spreading your story is rare. We get to see the world differently than some; full of love acceptance and through the eyes of the many people that have your back.
We get a rare glimpse into the world of special needs; a world where there are lots of figurative winks because we get "the hard and the beautiful" on such a deeper level.
So you see my son, you are rare…. but your article should read:
"People with Down syndrome on Time's Most Influential List"
Or
"People with Down syndrome on Nobel Peace Prize List"
Or
"People with Down syndrome win hands down on How-To-Be-A-Human List"
You are winning at life my little love. You have got so much of it all figured out already. Thank you for teaching me and thank you for making me the lucky mom of someone rare.
I love you Bubby. Happy 4th birthday.
This article was originally published on