This 40+ Double Dutch Club Is What We Need Right Now
by A. Rochaun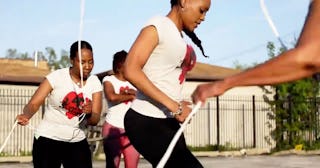 Windy City Live
Have you seen Pamela Robinson's Double Dutch group, comprised exclusively of women 40 years old and older, which is appropriately named "40+ Double Dutch Club"? At the risk of sounding cliché, it's so damn inspirational, y'all!
If not, don't worry, we got you. Here's a link to make sure you can check it out.
The Backstory
In May of 2016, 48-year-old (you'd never guess by looking at her) Pamela Robinson felt a desire to jump rope like when she was a kid.
"I came up with the idea to start my 40+ Double Dutch Club a few years ago. I was going through a really difficult time in my life and honestly just needed something to smile about," Robinson expressed in a Facebook post. From there, the 40+ Double Dutch Club, which is located in Chicago, Illinois, was born.
"One day my friend Catrina Dyer-Taylor and I were talking about how much fun we had whenever I brought out my double Dutch rope at barbecues or summer functions," Robinson wrote. "We talked about how pulling out that wire clothesline from Ace Hardware immediately brought back memories of childhood — back when life was simple and our issues centered around who was double handed and who could jump the longest before the street lights came on. Before husbands, kids, bills and 'adulting' took over."
Robinson and Dyer-Taylor posted their idea online, with one requirement: you had to be over 40 to join. The interest was immediate.
"So we decided to put a post on my FB page to see if any other women our age shared those memories and wanted to get together to jump rope — not for competition, not to show off (most of us hadn't jumped in years!)- just for fun and old times sake," Robinson explained.
From there, 40+ Double Dutch Club began with the goal of giving women who are 40 and older a chance to participate in fitness, fun, and friendships. And a quick glance at the video and news segments featuring 40+ Double Dutch Club reveal they've achieved just that!
The History
Not only is the 40+ club challenging stereotypes about Black women's fitness, age, and providing social opportunities, it's also motivating the larger public to take a few minutes to research the sport of Double Dutch. This fun yet tiring activity has been present in the Black community for the last few decades.
According to The Double Dutch League, "Double Dutch is a rope skipping exercise played when two ropes are turned in eggbeater fashion. While the ropes are turned, a third person jumps within."
As the description suggests, it's pretty darn complicated to explain verbally. But it's a wonder to behold in action. It's almost like dancing and jump rope were blended together. The amount of coordination required to pull it off is damn near flabbergasting.
It was founded by David A. Walker and explained in great detail in his history of the activity. However, he believes the potential theories for where the sport of Double Dutch originates point back to ancient Phoenician, Egyptian and Chinese ropemakers.
In other words, the history might be just as complicated as the explanation.
Folks from all walks of life participate in Double Dutch at the competitive level. But through the years, Double Dutch has been most often an activity done by Black girls, of a variety of ages, in the city with some time to kill while trying to beat the summer heat.
The Impact
This is also where 40+ Double Dutch Club shakes things up. Racial diversity and even gender diversity are old news in the Double Dutch world. But age diversity isn't nearly as common.
During Robinson's interview with a local news station, she mentions a few of the age differences between the tech-savvy youth of today and the more rope orientated generation to which she belongs.
"This right here is our thing. We want the people who used to jump growing up. WE want them to see we can still do this. We got this," proclaimed Robinson.
According to her, Double Dutch falls right in line with the hoop jumping and juggling of responsibilities women do in everyday life.
Although 40+ Double Dutch Club gives all women regardless of race the chance to participate, it's hard for me not to see the beautiful Black women living, thriving, and refusing to let anyone rob them of potential based on age.
Often, a multitude of life stressors weigh heavily on Black women. Seeing the smiles on the member's faces as they do something active and fun is a reminder of Black women's determination to choose joy regardless of what life throws our way.
Since information about the kickass DD group has been quickly spreading across the interwebs, so it seems will their membership. The group's online Facebook group "40+ Double Dutch Club" has exploded with women over 40 hoping to find Double Dutch community in their area — and their page metrics suggest a huge member increase in the last 30 days.
It's inexplicably beautiful that Robinson's page is filled with love in the form of comments and shares, often Black women, excited to get out and get active. However, the most heartwarming component about how all of this turned out is that Robinson started with that one goal: increasing older women's access to fitness, fun, and friendships.
In a matter of weeks, Robinson's modest goal has turned into a life-changing opportunity for women all over the world. She's joins the ranks of folks reminding us that fitness can appear in a variety of formats. And it's totally possible for it to be fun as hell too.
This article was originally published on