10 Easy Fifth Birthday Party Ideas For Your I'm-Not-A-Baby-Anymore Little Baby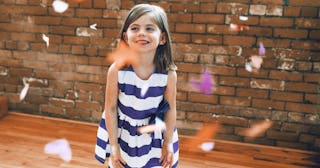 Shopify Partners/ Burst
In case you haven't admitted it to yourself yet, your baby is most definitely a kid. If they haven't already, they'll start school soon. Their birthday parties are no longer just your family and your friends' kids. They're meeting other tiny humans and making their own tiny friends. Mind blown yet? It gets crazier. Your kid is probably going to want to choose their own party theme. Just in case they let you have any input, here are some bright ideas.
RELATED: Best Tie Dye Kits For Bored As Hell Kids & Moms (+How To DIY Tie Dye)
High-5
Got a super cool dude who's overly enthusiastic and social? Perhaps a High-5 party is up his alley. Decorations can come in any colors he likes, as long as you smack some hand-prints and fives everywhere.
Fancy, Fabulous, and Five
This is basically just an excuse to throw your little one into a tutu and put glitter on everything. But, isn't that what being five is all about?
I'm Digging Turning 5
If your baby girl or boy is still (or recently) into big yellow construction equipment, this play on "digging" is the perfect opportunity to give them the dirty, digger-heavy party they'll remember forever.
Her Royal Fiveness
Is your girl a major princess? Whether she's strictly a Disney girl or any crown will do, Her royal fiveness will love this theme. Suggestion: Give her a throne to sit on when she opens presents, eats cake, etc.
Five-Star Spa
Now that she's a little older, your little girl might enjoy going with you to get mani/pedis. Why not bring the spa life to your party with face masks, foot scrubs and an assortment of nail polish? See if you can get a big sister or another mama or two to help do the girls' nails.
Eaten A-five Shark Party
With or without this stretch of a word play with a-five/alive, a shark party is always a hit. Lucky for you, your kiddo has probably outgrown "Baby Shark" and is now more into the real thing. Consider a trip to the aquarium? Or, just go blue water and shark crazy in your home.
Rainbow Party
Traditionally, rainbows have six colors. However, there is an altered version with only five: Red, Yellow, Orange, Green and Blue. Use Pinterest to search rainbow parties and you'll find a million super simple and cheap ways to decorate your party with a ton of color. As for activities: Tie-Dye is really the only answer.
Barbie Party
If you've got a girl who isn't into Barbie, that's super cool. However, for a lot of moms, nothing makes them happier than the day their little girl starts picking up her Barbie dolls and doing fashion shows. Barbie is an amazing role model, too! She's a teacher, a farmer, an astrophysicist, a Marine… shoot, she even ran for president. Let your kiddo invite her friends over and encourage them to bring a Barbie of their own to use to play. Maybe even encourage party-goers to come dressed as their favorite Barbie (or Skipper!). Bonus points if you can create the life-sized Barbie box for pictures.
https://www.instagram.com/p/B5Do3jQnIP3/?utm_source=ig_web_button_share_sheet
Unicorns
Why are these creatures so popular, again? Maybe because they're flippin' awesome! A unicorn-themed party is your chance to go bonkers with pastel colors, glitter and anything else you find magical. Is a visit from a horse wearing a horn too far? Probably. Is it worth consideration, though. Uh, Duh.
LEGO
Much like Barbie, LEGO really is a catalyst for imagination. The kits teach kids to follow directions and those big bins of assorted bricks inspire those same kids to create something on their own. Stick with primary colors and obviously have LEGOs to play with and everything else will fall into place. Whether you go for some crazy, three-tiered LEGO monstrosity or just a simple sheet pan cake with the circles on top, your kid will love the effort. Just watch where you step.
Related: 34 Fun And Easy Minute To Win It Games For Kids Everyone Will Enjoy
This article was originally published on