8 Popular Reality Shows That Perfectly Describe Life as a Parent
by Stacy Graebner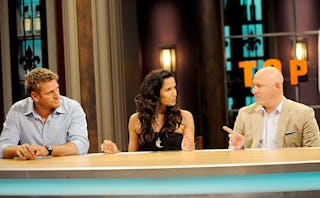 Primitive Survival Skills Rating: You: 1.7, Child: 9.8.
The Voice
This can only be about one voice in the house. THE voice. And it happens to be your voice. The voice that is sounding off All. Day. Long. Of course, just like the show, there are four people (your family members) who have their backs turned to you while you perform at the top of your lungs. Sometimes they even turn around to look at you. If you're lucky.
Top Chef
This perfectly captures the essence of dinner time with children. You race to make several different dishes under unreasonable time constraints, then a panel of three critics tells you they are all terrible and sends them back. You end up defeated and ready to pursue a different profession at the end of every "challenge."
The Amazing Race
Virtually any parent's trip to Target 30 minutes before the kids get off the bus.
Project Runway
Getting a child ready to leave the house is a lot like gearing up for a stressful fashion show. And just like Project Runway, kids are really good at putting together outfits using whatever they can find—usually a mix of feathers, sequins, taffeta and flannel. If you tell them you don't like their final outfit, they often end up pouting or crying and hiding in the back room. For what it's worth, this process would be a lot less frustrating if we looked like Heidi Klum.
Deadliest Catch
Those moments in every parent's daily life when we encounter the unpleasant "catch of the day." This could be anything ranging from a banana peel to a used tissue, an athletic protector, chewed gum, a random smelly sock or vomit.
American Idol
In our house, this epitomizes the moment when Dad walks into the room. Especially at bedtime when he decides to wrestle, or when I say no to candy, but he says, "Sure, why not?"
The Biggest Loser
Me, most Friday nights at our house. Where's the ice cream? Don't eat the ice cream.
This article was originally published on