Someone Reported An 8-Year-Old's Lemonade Stand To The Alabama Department Of Labor
He was earning money for a Disney trip.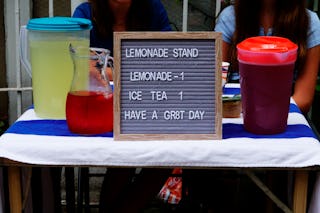 Education Images/Universal Images Group/Getty Images
Setting up and running a lemonade stand is a rite of passage for most children. Simple and classic, whipping up a fresh batch of lemonade and selling it for $.50 a cup is one of the most effective and time-tested ways for kids to add some cash to their piggy banks.
Every summer, I see a dozen or so lemonade stands with kids just having fun and making some spending money. The entire concept is harmless and quite sweet, so who would ever try to take the fun out of it?
One Alabama mom wants to know this too.
Eight-year-old Cameron Johnson and his mom Cristal began making "Cam's Lemonade" last year. The plan originally started as a way for Cam to learn about the value of money and hard work, plus earn some cash for a vacation.
"One day he asked to go to Disney World," Cristal recalled to Alabama.com. "I was just kind of joking around with him, telling him, 'Let me teach you how to earn a buck since you think money grows on trees.'"
The mother-son dup set up a lemonade stand at a local yard sale and, with the power of social media, Cam's stand went viral. The idea blew up from there.
Cristal began making the lemonade, and Cam continued to sell it at home and at events.
Cristal and Cam were so successful that "Cam's Lemonade" that they will distribute the lemonade on store shelves in local counties by the end of next month in 10 different flavors. Which is, admittedly, way bigger and more of an actual business than your typical sidewalk lemonade stand.
Cam said the lemonade stand is a way to "have fun" with his mother.
"It's taught me how to save money," he said.
But the story took a turn when Cristal put out a call for a one-day apprenticeship program.
She posted a message on Facebook about the one-day apprenticeship.
The post read, "On July 9th Cam's Lemonade will employ 2 kids 6-10yrs old. We will open from 2-6, you can drop them off with us at the truck for a 2 hr shift, and pick them up at the end of their shift. I will let them work with Cam on communicating with customers, giving and receiving payments, and good manners. They will each receive $20 at the end of their shift."
According to Cristal, the apprenticeship was for a child from ages 6 to 10 to sign up for positions of "smiler" and "greeter." To apply, interested children had to share a resume with what "they want to be when they grow up and why."
"I came up with this idea to get a couple of kids in and do the same thing I did with my son," she told AL.com. "He's a little shy, and sometimes he stumbles with giving change, so I thought it would be a good idea to help some kids with confidence, self-esteem, math skills."
After Cristal posted the call for a kid apprentice, the lemonade stand was promptly reported to the Alabama Department of Labor.
On Facebook, Cristal wrote, "I was reported to the Department of Labor for hiring minors!!! Some miserable soul thought it be a good idea to have it shut down, so with that being said.. the child event I was trying to have is cancelled!! I think it is disgusting, hateful, and downright sad for a person to find negative in what I was trying to accomplish! That person is no doubt reading this message, and this is for you: You CANNOT stop what is destined to be! You didn't win! All you did is make me figure out another way!"
A spokesperson for the Alabama Department of Labor told Alabama.com it does not "stop lemonade stands, and we never have."
Rather, their issue was with the apprenticeship.
"This is an LLC with professional transportation and distribution," the spokesperson said.
"Kids that age can volunteer for their church or other non-profit, but a 6-year-old cannot work for a for-profit business. She is free to employ her child at her lemonade business, but no other children under the age of 14. The business has faced no penalties and was not threatened with any penalties."
The good news is that Cameron has indeed raised enough money for his Disney World trip.