Adoption Agencies Don't Just Need Parents, They Need Volunteers
by Ashley Austrew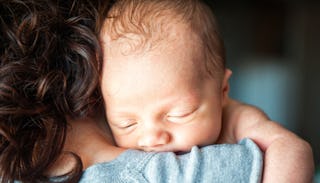 Adoption agencies around the country are in need of interim care providers for newborns.
Everyone loves a newborn, but there's a way to play an important role in the life of a new baby that many people don't know anything about. It's called interim caregiving, and it's a volunteer position that involves caring for newborn babies while their mothers decide whether or not to place them for adoption.
The need for interim caregivers made headlines this week after a New York agency, Spence-Chapin, put out a call for five to 10 families who'd be willing to go through the necessary training to foster and care for infants in need. According to ABC News, their need mirrors the needs of agencies all around the country, and the story quickly went viral as many assumed interim care just meant dropping by a local hospital to get free baby snuggles.
RELATED: 36 Caregiver Quotes And Poems Sure To Buoy Your Spirits
There are agencies out there who need volunteers to interact with babies in their nurseries, but there's a lot more to being an interim caregiver than just cuddling. Interim care providers are responsible for around the clock in-home infant care. The process to become a caregiver requires a background check, training, and home visits. It also requires essentially acting as the sole provider for a newborn while their birth parents figure out the plan for their lives going forward. The cost of transportation, diapers, formula, car seats, pediatrician visits, and anything else the baby might need is covered by the agency, but it's up to caregivers to "make sure newborns get a loving start."
Susan Singer, an interim caregiver through Spence-Chapin, told ABC News, "My job is to make the baby feel safe and loved 24-7. I hold them all the time. I talk to them. I sing to them. We play music." And, though her role is only temporary, she says she gets "so much joy and pleasure" from what she does. "I feel so good when I'm with an infant," she says, "I hope that it does … something for them, too."
Adam Cotumaccio, president of Spence-Chapin, says interim care not only does something special for babies, but for their birth moms as well. "If a woman is thinking of an adoption plan, she's in crisis," says Cotumaccio." The program offers a pressure release valve for this woman." It's a way of providing care for both mother and baby by ensuring babies spend their first weeks in a safe and loving environment.
According to the U.S. Department of Health and Human Services, about 108,000 children were awaiting adoption in 2014 — the last year for which stats are available. Obviously, not all of those children were infants, but it just goes to show how great the need is for not only adoptive families, but also the workers and volunteers who care for these children through every step of the process. Interim care providers for infants are the first in a long line of loving people who devote their time to giving kids a good start, and the world could certainly use more of that.
If you're interested in learning more about interim caregiving, you can visit the National Center on Adoption and Permanency.
This article was originally published on