Put A Ring On It With The Best Affordable Engagement Rings Under $500
by Megan Hungerford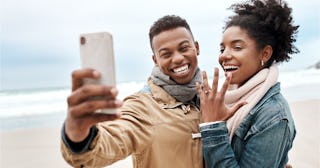 Getty Images/Dean Mitchell
Take the stress out of ring shopping with the best affordable engagement rings. We get it, just the thought of asking the love of your life for their hand in marriage can feel overwhelming. The pressure of finding the perfect engagement ring only adds to the stress. Not only do you have to find one they'll love wearing every day, but one that will last through each and every anniversary. The sheer enormity of it all can break you (and your bank account). Lucky for you this selection of the best affordable engagement rings are all under $500. Plus, we've tapped David Alan, a premier fine jewelry atelier in New York City (who happens to have designed customer rings for some of Hollywood's hottest celebs and other VIPS over the years) for help. With Alan's help, you'll know the best stones to consider, and have insider tips and tricks so you can ring shop like a pro.
Natural Diamonds vs Simulated Diamonds
"When shopping for a diamond, many people become obsessed with the 4 C's of diamond buying. Save money by purchasing a diamond with a lower 'grade.' For instance, a diamond with a lower color grade or with slight inclusions (clarity) may save you money without compromising on beauty," advises Alan. But buying an engagement ring doesn't mean that you have to buy natural diamonds. There are really affordable simulated diamonds (which are man-made diamonds created in a lab) on the market now that are oftentimes much more affordable (and still sparkle like the natural thing). Alan says you can "expect to pay about 95 percent less for cubic zirconia and 80 percent less for moissanite than natural diamonds." Moissanite is especially popular for its durability and ranks a 9.25 on the Mohs scale. (Natural diamonds are the only mineral that ranks a perfect 10 for hardness on the Mohs mineral hardness scale.)
Colored Gemstones
However, you don't have to limit your shopping to mined and simulated diamonds. "​​Colored gemstones are a great way to get something nontraditional, show off personal style and save money!" Alan explains. "In fact, sapphires are one of our favorite colored gemstones for engagement rings. Plus, sapphires are available in a wide and gorgeous range of colors too." Whether you choose an emerald, morganite, or sapphire center stone, these colored gemstones can be much more affordable and still make stunning engagement rings.
Regardless of which stone you want to get down on one knee with, we've got the best affordable engagement ring options below — with even more advice from David Alan about getting the biggest bang for your engagement buck. Now go get 'em tiger!
Best Affordable Engagement Rings Under $500
Best Affordable Simulated Diamond Engagement Rings
Best Affordable Diamond Engagement Rings
Best Affordable Gemstone Engagement Rings