TikTok Moms Are Showing A Young Influencer What Moms Really Look Like At School Pick Up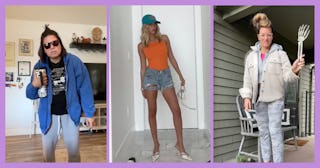 Mari Ebert, Alix Earle, Nicki Marie / TikTok
Alix Earle — a popular TikTok influencer/the Paris Hilton for Gen Z — went viral and caught the attention of a brand new social media audience — the moms of TikTok.
The social media personality film a "Get Ready With Me" style video, trying on different clothes before heading to a Miami Dolphins football game to watch her boyfriend, Braxton Berrios, play for the NFL team.
After some deliberation, she lands on Levis cut off jean shorts, an orange tank bodysuit, topped off with a blue Miami Dolphins baseball hat, white sling back studded heels, and the tiniest white Jimmy Choo purse I've ever seen in my life.
After taking a few steps back, making sure her entire outfit is in full view, Earle says the most hilarious and perfect thing.
"I feel like a mom picking up her kids from school," she says with a smile.
Totally, Alix! Yes, same.
It's actually so funny that you say that, and honestly, I'm glad you did because I was actually going to wear that exact outfit to school pick-up today, and like, wow, can you imagine if we showed up in the same thing? Embarrassing! Glad we dodged that bullet.
Unsurprisingly, her hilarious off-the-cuff comment caught the attention of thousands of moms who stitched the viral video, showing off their fabulous school pick-up looks, and hoping to show Earle how moms really look at school pick-up.
Mari Ebert, @the_hotmess_supermom, stitched the video, sporting a t-shirt, sweats, and a messy top knot.
"Should we tell her?" she asks. "Who's gonna tell her?"
Nicki Marie also stitched the video, standing on her front porch with the biggest, floppiest messy bun on top of her head and a mismatched outfit.
"No, you don't," Nicki says in response to Earle's remark. "That's not what we look like!"
TikTok mom Cassidy Michelle noted that while Earle's look was great for school pick-up, she was missing a couple things if she really wanted to lean into the role.
"So you're missing a few things. The hat you got right ... You are forgetting the backpack full of snacks that your kid liked yesterday but hates today. The water bottle that they will leave at school inevitably. The jacket they'll refuse to wear even though it's below 30 outside and a cold cup of coffee. There. You need some props and then you'll be set," she joked.
While most of us look like hungover Adam Sandler while grabbing the kids from school, a couple moms found solidarity with Earle's look.
"I know most mom's stitching that can't relate, but you guys know this is actually me at school pick up," Brittany Jade wrote in text overlay on her stitch of Earle's video.
She sports a very similar look to Earle's before telling her kids to get in the car because they're heading to Starbucks.
"Minus the Jimmy Choo cause kids are expensive but omg i laughed SO hard at some of the other stitches to this video of moms in their sweats but you know me & my school pick up outfits so I just had to 💁‍♀️😅😆 #inalixwetrust," she wrote in the caption.
One user commented, "I want to also note that she specifically said PICKUP and not DROP OFF. We've had 8 hours to get it together by that point. 🤣"
And that is totally fair. I typically change into my "fancy" sweatpants from my "sleep" sweatpants between drop off and pick up because I'm not a total monster. I have some dignity!