These Are The Best Amazon Prime Day Fashion Deals Of 2021 You Can Still Shop
by Megan McCarty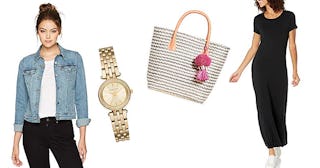 Amazon
Ever wonder how to afford a wardrobe like an influencer? Same. It seems like regular gals who never had an extra dollar are now dressing themselves (and their kids) up on a daily basis. Well, things are changing. With affordable and accessible fashion in higher demand, Amazon noticed more and more fashion purchases to the point where the company completely revamped and expanded their entire fashion department. And now you can take advantage of their fashion deals for Amazon Prime Day 2021, which is officially happening on June 21-22!
Yep, Amazon is doing fashion. And they're doing a f*cking amazing job at it. It seems like everyone is eating it up and shopping out the new offerings. Plus, they just dropped some brand new collections and are running major Prime Day sales with fashion partners through the night. Keep an eye on inventory, as it fluctuates, and know that you'll only be able to see the discounts by choosing a size first.
Here's what Amazon fashion looks like now. And yeah, you can finally afford it.
Still Prime Day shopping? We've also rounded up the best deals in kitchen, tech, toys, beauty, baby, and the best deals overall!
Best Amazon Prime Day Fashion Deals
Bookmark this page so you don't miss out on our favorite Amazon Prime Day deals of 2021. We'll be live reporting on the biggest price cuts. Plus, sign up for Amazon Prime so you can take advantage of the best Amazon Prime Day deals of 2021!