Watch Out For Apps That Threaten To Stab Your Children -- No, Seriously
by Meredith Bland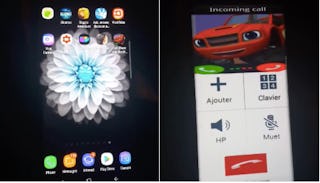 Image via Facebook/Donna Lisle
Google pulls creepy app aimed at kids
One of the greatest gifts this generation of parents has been given is the app. Going on a long car ride with your child? There's an app for that. Or maybe you just need your child to stop talking for five…freaking…minutes? Welcome to mommy's phone, son. But what if instead of exploring the air and sea with Paw Patrol, you hear the voice of Satan coming from your phone telling your kids he's going to stab them?
That's exactly what happened to some parents in England last month, and they were understandably disturbed.
RELATED: The Modern Parent's Guide To Internet Safety For Kids
Two weeks ago, mom Donna Lisle (who goes by Kebz Lisle online) posted a video on Facebook of an app her young daughter downloaded. It looked like an app for one of her child's favorite shows, Blaze and The Monster Machines, and was even titled "Call Blaze and The Monster Machines 2018." What Lisle heard from the next room, however, was not the sound of a happy-go-lucky team of monster trucks:
In the video, Lisle says that her daughter was downloading apps in the other room — something she has done before with no issues — when Lisle started hearing "a demonic voice."
"I'm like, what on earth is my daughter watching?" she says. "That sounds really evil!" Lisle grabbed the phone and discovered that in this app, after kids successfully complete a matching game, they get a phone call from Blaze as a reward. But when they answer it they hear an intensely creepy voice that says, "Hi kids, I'm your new friend Happy Slappy, or whatever you want me to be called."
The voice continues: "You see I want to play with you, kiddo. Maybe we could perform some fun games together."
RELATED: 12 Scary And Haunted Games That'll Leave You Terrified
Uhhhhhhh….
"What's this hogwash? You look afraid. Is it this knife in my whirly twirly hands? Making you a little nervous, huh?"
RED ALERT. RED ALERT. RED ALERT.
"That's all right 'cause this knife is gonna improve your look — when it's sticking right out of you. Ha ha ha ha ha."
And now I've blacked out.
Lisle, whose daughter was four at the time, told Scary Mommy that she was "mortified" and "heartbroken" for her daughter. Another mom, Jane Diya, had the same experience with her seven-year-old daughter. She told The New York Post that her child had trouble sleeping after listening to the creepy message.
Both mothers were angry and confused as to how this app could have been made available in the first place. Lisle told us she couldn't understand how the app developer "could do such a thing" and also questioned why Google rated the app as PEGI3, which is the European equivalent of an "E for Everyone" rating in North and South America.
Well, the answer to her first question is that there are terrible, awful people in the world. Her second question, though, is a good one — how does something like this get rated "suitable for all ages"?
Aaccording to one of Google's support pages for apps, content ratings are determined based on the results of a questionnaire that is filled out by the app developer.
Oh. So yeah, that's exactly how this kind of thing happens. Google does ask developers to "provide accurate responses," but anyone who has been on the internet for more than five minutes knows that's about as useful as a sign asking people at a buffet to "Please refrain from filling your plate." It's meaningless. And the punishment for misrepresenting your content? "Removal or suspension."
This is not an adequate screening method. I understand that there are thousands of new apps created every single day, but there has to be a better way of determining whether or not content is appropriate for kids than asking sleazeball developers (sorry, non-sleazeball developers) to self-report and then take their word for it.
Lisle, however, is taking action. She reported the app to both Apple (who she hasn't heard back from) and Google, who took the app down. According to Lisle, Google has not, however, told her what course of action they'll be taking with the app developer and how they're prevent this from happening in the first place. "I feel they have not taken into consideration the damage they've done to our children by letting apps like this and their terrible age rating system slip through the net."
Lisle has also created a child safety group called Children's Online Protective Services and put together a Change.org petition asking for a better content rating system. Lisle says that since the incident with her daughter she has found "hundreds of apps all completely unsuitable and completely rated wrong when it comes to age ratings." Lisle no longer allows her daughter to download any apps whatsoever.
As is usual when someone learns a difficult lesson and shares it with others in an attempt to keep them from doing the same thing, she's gotten some critical comments blaming her for allowing her daughter to download apps unsupervised. But Lisle is brushing that off and focusing on the bigger picture:
"I decided to share the video online because I saw the impact this had on my child, and the thought of it happening to anybody else's child was almost as horrifying as my daughter seeing it again. I feel like a good mother protects all children, not just her own, so if anything, regardless of some of the backlash, it was my duty."
And thanks to her, we're now aware of the inadequate system in place for determining the content ratings that we, as parents, rely on to help us keep our kids safe. The truth is that these ratings are mostly worthless, and now that we know that, we can adjust how we supervise what our kids see when they're online.
This article was originally published on