The Newest COVID Variant May Cause Pink Eye & Itchy Eyes In Kids
The variant, Arcturus, is currently causing a steep increase in cases in India.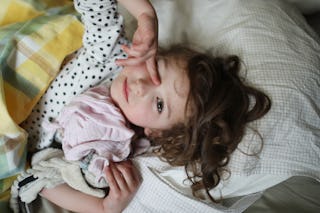 Catherine Delahaye/DigitalVision/Getty Images
Many parents have put COVID worries on the back burner for the last few months, especially as norovirus, strep, flu, and other classic viruses have raged through the schools and across this country all winter long. But new reports from India about the latest variant of coronavirus have doctors warning parents that an uptick in cases maybe coming — and that the symptoms to look for in your kids may change.
Specifically, according to the Times of India, doctors treating kids in India say that the Arcturus variant (also known as XBB.1.16) is presenting in kids with some new symptoms, including pink eye (conjunctivitis) or red, sticky or itchy eyes.
Pediatrician Vipin M Vashishtha tweeted, "For the last two days, have started getting pediatric Covid cases once again after a gap of six months. An infantile phenotype seems emerging-treated infants with high fever, cold & cough, & non-purulent, itchy conjunctivitis with sticky eyes, not seen in earlier waves."
Another Indian doctor, PS Narang, added that red or pink eyes can appear with any types of virus, and COVID is no exception. "There are some cases of redness in the eyes with viral which are more common with adenovirus, but it can be Covid too," he told The Times of India.
At the same time, Fortune reports that there are "lots of anecdotals of pediatric conjunctivitis in India" right now, according to Raj Rajnarayanan, assistant dean of research and associate professor at the New York Institute of Technology.
Arcturus, an Omicron sub-variant, has hit India hard in the last two weeks, causing a spike of cases not seen in the past six months and causing some local municipalities to begin requiring masks again. A spike in hospitalizations is especially apparent in kids 12 and under. The WHO is watching the situation, and some WHO scientists believe it is the most transmittable strain yet.
As always, it's important to note that at least until now, about 66 percent of kids with COVID show no symptoms, 27 percent show mild symptoms, 5 percent have moderate symptoms, and only about 2 percent show severe symptoms that require medical intervention. Kids with health conditions like autoimmune diseases should be closely monitored.
Right now, the best thing to do for kids as always is make sure they are up to date on their vaccines, watch for symptoms, and test if they're showing symptoms.