The 7 Best Baby Car Mirrors That Help You Keep An Eye On Your Little One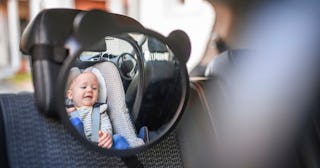 Getty Images/AzmanL
We may receive a portion of sales if you purchase a product through a link in this article.
A baby car mirror is a must-have baby gear item for rear-facing car seats. Not only does securing a mirror on the headrest in front of the car seat prevent you from having to pull over every time you hear a weird noise coming from your baby, or worse, no noise at all (which usually just means they're sleeping or ignoring you), it also gives your baby a way to always have you in their sight.
Not all car seat mirrors are created equal, though. From experience, we can tell you that it absolutely isn't worth your time or money to buy a baby car mirror that won't stay in place, causing you to have to adjust the straps every time you go somewhere. You deserve a backseat baby mirror that stays put, straps on tightly for safety, and does its job — as in, reflects your baby's adorable face.
The internet has lots of baby car mirrors to choose from, so we took it upon ourselves to narrow them down to the ones with the highest ratings and parent approval. Ahead the best baby car mirrors for vehicle, budget, and style.
1. The Overall Best Baby Car Mirror
It's hard not to trust a fan favorite on Amazon, especially when it has over 15,000 five-star ratings, like this baby car mirror from Shynerk. It comes with a special night vision feature that allows you to keep eyes on your LO even in dark conditions for total peace of mind. Plus, it mounts on your center console and uses a camera to keep tabs on baby, for the most reliable angles yet. A cord runs from the camera to the screen, which can be run under the car seat and car mat and between the front seats. Plug it into the cigarette lighter and you're good to go.
Helpful Review: "This might possibly be the best thing I've ever bought on Amazon. I love that I can see my little guy in the backseat and I don't have to strain to see in multiple mirrors to make sure he's OK. I love the nightvision, it works amazingly well and I can see my little clearly, not so with a standard car mirror."
2. The Most Affordable Baby Car Mirror
Another popular option on Amazon with more than 12,000 ratings, the Jolly Jumper baby mirror is no-frills but efficient. We're all about quick and easy installation, and that's why parents love this one. The mirror has a shatter-resistant surface, and the adjustable straps fit most headrests. Best of all, you really can't beat the under-$10 price.
Helpful Review: "Really wanted a mirror so I could see my little one but didn't want to spend a lot. This is perfect, looks nice, is easy to use, and most importantly affordable!"
3. The Baby Car Mirror That Easily Pivots
You need a clear view of your child in their car seat, and the Britax back seat car mirror offers it. It's shatterproof and can pivot whichever way you need it to and the adjustable straps give it a snug fit over the car headrest. The convex mirror design ensures every view of baby is covered the soft edge of the mirror looks right at home in your vehicle's interior.
Helpful Review: "This is the 3rd mirror we tried and this will be the last [...] It straps to the adjacent headrest (with two buckle straps) and pivots which ever way you need it to. You can also adjust the angle for which ever way you need as well."
4. This Cute Baby Car Mirror That Plays Music
Here's an adorable car seat mirror that gets the job done and gives your baby something cute and entertaining to look at while in the car. A remote lets you control music and volume on the mirror, as well as a cute light show. An auto-shutoff feature conserves battery life for all those times you're definitely going to forget to turn it off. Just note that batteries are required for this one.
Helpful Review: "A full year later, and I still wish I could give this mirror a hundred stars. My toddler loves it, wants it in her hands in the car seat, loves using the remote, pressing buttons to make the music, listening to the music, looking at herself, at the lights, she sings to it, talks to it! It's one of the only two things that make car rides bearable (the other thing is snacks). Love love LOVE this thing!"
5. The Best Car Mirror For Multiple Kids
If you have two or more kiddos you'd like to keep an eye on in the backseat or simply want a view of your entire backseat without having to turn around, this is the baby car mirror for you. It offers a 180-degree view and high-definition clarity so you can see everything that's going on back there.
Helpful Review: "This mirror is one of my favorite purchases in my 6 years of parenting. It's big enough so I can see the entire back seat area, and my entire back window. It's a must for moms with multiple kids [...]."
6. A Stylish Baby Car Mirror With A Matte Finish
This baby car mirror is not only one of the best multi-angled options on the market, it also is by far the most stylish option. It has a matte finish and comes in three color options to coordinate with your car's interior. (Hallelujah!) The shatterproof mirror is large and offers a crystal-clear view of your little one. Plus, it's sturdy and has adjustable straps that ensure it doesn't move. Parents swear by this mirror. Just check out that impressive 4.7-star rating after more than 4,500 reviews.
Helpful Review: "I tried 2 other mirrors, but could not get the perfect angle to see my baby. I bought this mirror and was immediately satisfied before even hooking it up! The quality is top notch, the swivel is sturdy and made to hold its position. Installation was very easy, easier than the other mirrors I had tried. The mirror itself is clear. I can easily see my baby during the day."
7. This Budget-Friendly Wide-Angle Baby Car Mirror
This extra-wide shatterproof baby car mirror offers 360-degree adjustability so you can get just the right view of your baby. The mirror is shatterproof and the frame is made from high-quality, eco-friendly materials. Super easy to assemble, it's no surprise it has over 7,000 positive reviews.
Helpful Review: "This one does perfectly what I need it to do. It is HUGE and has a wide range of view thanks to the 'bobblethingy' that allows it to get and maintain (even through tough turns) the perfect angle for your height and your car. The 'glass' is crystal clear and I put it together and installed it in less than five minutes."
This article was originally published on