Back-To-School Doesn't Have To Be Like This
This summer, I am opting out of the frenetic preparations that steal our lazy summer days.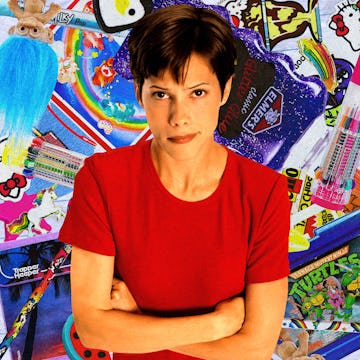 Ariela Basson/Scary Mommy; Getty Images, Shutterstock, Flickr/belaluna.etsy.com/Chad Gierlich, Amazon/Mead/Yintlilocn/Pentel/Elmer's/, The Rocket, Etsy/HoityToityKnickKnack, Oriental Trading, Mercari/artisticthriftr, Ebay/siapib
Recently, while shopping for pool toys, I noticed the section that should still be giving off summer vibes was filled with notebooks and glue sticks. By my next trip a few days later, those supplies were already picked over. The retail world is already living like it's September.
It's like this every summer, though. The rigamarole around back-to-school gets a bit more overblown with every passing year. When my oldest began school, I didn't think about custom T-shirts or sign templates. We took a cute photo on the porch in a Paw Patrol shirt he chose from a bag of hand-me-downs and set off on the short walk to the quaint little church preschool that all four of my children would eventually attend. Now, as we prepare to send our kids off to yet another school year this fall, I have to actively work to tamp down my anxiety about the event back-to-school has become.
There's an essay by Kristen Howerton called "Can We Bring the Holidays Down a Notch?" that makes the rounds in parenting groups a few times a year, and it always makes me both laugh and cry at how extravagant we've managed to make simple things. Back-to-school feels like this to me, and I've decided this year I am opting out. My family is going to soak in every last day of summer until they are legally required to be back at that building.
My good friend Robin and I are often on the same parenting page. "We will pose sign-less on the porch against our siding in hand-me-down or thrifted backpacks and shoes, like always," she told me. "I'll try to cut the boys' hair and when I do my daughter's braids, I'll make sure the beads go with whatever cute dress I pull out of her closet." She made a point to send her love to the moms who go all-out, though. It's okay if you enjoy it — but we don't.
It's not that there is anything bad about a custom shirt or designing a cute sign or making pancakes in the shape of the school mascot. If a parent enjoys that, have at it. I am known for going a bit "extra" with our elves on the shelves because I think it's fun — not because I feel obligated to. It's the pressure to make everything a celebration that gets me.
My friend and colleague Emily King told me, "I stopped doing things that only I thought were cute a long time ago. If my kid wants a fresh cut or new shoes for the year, great! They need to feel confident on their first day so that's my barometer, not all the other BS." She had a point I hadn't considered. How much of the pressure to create a perfect first day comes from our kids, and how much comes from seeing what other families are doing? I know my kindergartener very much cares about her first day outfit, but my twin 4th graders and 6th grader don't seem as invested. Maybe I will feel a bit less stressed if I let them take the lead?
Beyond stealing joy from the few summer days we have, the overblown school celebration is costly. Our school doesn't require parents to purchase supplies, but many friends told me they are stressed by the long lists they must procure. My aunt regaled me with a tale of driving all over for certain highlighters, requested by a teacher. Her rage grew with each fruitless stop. Another friend, Maria, can't afford to do the things her twins request. "Parents with more money and more time can choose to do all the things that might make things special for their kids, but it makes those kids and parents with less feel the 'less' even more. It's more pressure, again, on moms." She told me her twins are often upset they don't do the things other families do.
My friend Erika struggles with comparison, too. "I always try to resist making it an event," she told me. "But I feel totally mom-shamed and embarrassed for anything my kid didn't get compared to the next family." She says she realizes that sounds silly, but her kids often come home with stories about what other families did, leaving her feeling like a failure.
If so many of us are stressed over the late-summer shuffle — feeling pressure from social media, from our kids, from our neighbors — what if we just collectively let ourselves off the hook? If you, while reading this, find you do not want to order your kid a new backpack when theirs is just fine, just… don't do it. When it breaks mid-year, just Prime a new one to your house. August is not the only time of year backpacks are for sale, folks.
If your kid cares about their special pancakes on the first day, but is content with beat-up Minnie Mouse sneakers, choose the things that matter and let them rock those scuffed kicks until they no longer fit or function.
Last year, I managed to find a little chalkboard for my kids to hold up, but no chalk. As the minutes ticked down to that first bell of the school year, I laughed and told my kids to hold up the blank board. Photoshop exists for a reason. We snapped some photos, trotted off to school, and had a blast changing the words on the signs for days after. We still joke about it. It turns out my poorly organized, last-minute snafu might actually be one of the best first-day memories my kids have.
Meg St-Esprit, M. Ed. is a journalist and essayist based in Pittsburgh, PA. She's a mom to four kids via adoption as well as a twin mom. She loves to write about parenting, education, trends, and the general hilarity of raising little people.