10 Things To Do In Beaufort With Kids
by Samantha Rice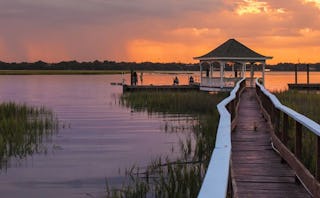 Beaufort is a small, quaint Southern town offering everything one loves about the South. From the people to the architecture and of course the vast history, Beaufort is a home away from home for our family. We've been traveling through Beaufort for more than twenty years to vacation at Fripp Island, the southern most island off of route 21. You may be familiar with it if you vacation at Harbor Island, Hilton Head or Dataw Island.
While vacationing at your beach of choice, there are likely quite a few things to keep you busy (or not busy if that is your preference). But if you do happen to stay near, or drive through this charming historic town, here are a few of our favorite things to do in Beaufort with kids…
1. Beaufort has an incredibly rich history that is both entertaining and fascinating and there is no better way to take in the beauty and culture than an afternoon carriage ride. Southern Rose Buggy Tours have operated in Beaufort for as many years as I can remember. They are about 50 minute tours in a buggy accompanied by a knowledgeable and personable tour guide who shares his/her knowledge of the deep history of the city. There are also walking tours, recommended for kids old enough to not detest walking. Jon Sharp's walking tours (now facilitated by Janet) offer a "fascinating walk back in time." The tour is two hours and is a more in-depth discovery of the city's history and of the Lowcountry.
2. Beaufort Movie Tour: Several Hollywood films were shot in the city of Beaufort and surrounding areas including Forrest Gump, The Prince of Tides, The Great Santini, The Big Chill. A well-educated guide will take you to movie focal points and share secrets from the films. You will visit set locations of the past and learn about the movies. While it is a movie tour, the guide does a great job weaving in some Beaufort culture. The tour takes place on a large air-conditioned bus – so that is ideal in the summer.
3. Forrest Gump was filmed on Fripp Island and in the city of Beaufort, so it is no surprise the Lowcountry is the perfect place to find fresh shrimp – scampi, gumbo, fried shrimp, you get the Gump reference. There are several shrimpers, but we like Gay Fish Company the best. You drive back to the store passing retired boats. You can look out past the store and see the shrimpers on their boats. Kids love seeing the boats, watching the guys shrimping and the family will love eating the best, fresh shrimp and fish in the country.
4. Anytime we bring someone new to Fripp or Beaufort with us, my dad insists on taking them to Hunting Island. For a nominal carload admission you gain access to South Carolina's most popular state park with five miles of pristine beach. Guests can rent cabins or day guests can stroll the island, swim the beach, visit the lighthouse and learn about history. You must visit the lighthouse. For a small fee, you can climb to the top of the lighthouse. The lighthouse stands 130 feet above the ground and you can take in views of the ocean. They also have a great nature center with a small refuge for alligators and you are almost guaranteed to see one or two of them.
5. The Chocolate Tree was one of Tom Hank's favorite chocolate places during the filming of Forrest Gump. You can watch the chocolate being made behind the glass and have samples. Many of the chocolates are molded into sea shapes such as starfish, shells and alligators. The chocolate is really good, and if you are really lucky, you might just be there during their annual "all you can eat" event. It happens only once a year, so mark your calendar!
6. Take the family out on Captain Dick's River Tour and Dolphin Watch. We always see families of dolphins swimming as we pass over the bridge and you are sure to see quite a few on the tour. You just park at the downtown marina and book the tour. This scenic tour will cover homes of the planters, where the dolphins live and play, and ecology of the salt marshes. You will learn about the homes, ecology and the wildlife as well as see seeing many dolphins! Tours run daily, evenings and they also offer private tours. Day tours run just over one hour. The sunset tour is two hours.
7. Admission is free to the Parris Island Museum and it is a great opportunity to learn more about the barracks on the island and the area's military history. You can explore the legacy of the marine corp as well as the history of the Port Royale Marine Corp.
8. Marina Picnic: The marina is a beautiful place to watch ships and boats particularly if the weather is good. You could stop by Publix and pick up sandwiches or their tasty fried chicken and have a picnic at the many picnic tables in the marina area.
9. Kazoobie Kazoos: This unique museum offers free admission and a history of kazoos. You can gaze at historical kazoos, recordings, pictures, articles, tools and stories about this unique American instrument. Kids can make their own kazoo or buy a kazoo at the shop. I caution how many kazoos are purchased if you have a long drive.
10. Food: We are a family of foodies by nature. We seek out a variety of food choices from food carts to sit-down restaurants. Our favorite finer dining restaurant that is kid-friendly is Dockside. There is a location in Beaufort and one on Lady's Island. I think the Beaufort location is a tad more kid-friendly. They have delicious dinners and appetizers, and I typically get a steamed platter. For a more laid-back seafood experience, the Shrimp Shack will fit the bill. You can get a fried platter with hush puppies or just some soup.
On Wednesday nights, Boondocks (just outside of Beaufort) offers deals on shrimp. They have nightly specials, but the Wednesday night is the best. It is very casual, family-friendly and won't break the bank.
If the family is in the mood for pizza, The Upper Crust will not disappoint. I found this diamond-in-the-rough many years ago and religiously visit during our annual trek. We do enjoy dining in, but it is quite convenient to order a few pizzas and their Greek salad to go for our first meal on the island.
Beaufort does offer many family-friendly activities, yet it is a great place for couples and a ladies day in town. The central business district is brimming with eclectic and fashionable stores. Several restaurants line Bay Street and offer culinary Southern delights, such as Plums and Wren Bistro, Bar and Market.
There are several art galleries on and around the main street, Bay Street, including my absolute favorite, Rhett Gallery Inc. The gallery is owned by, and showcases much of Nancy Rhett's work as well as her son and husband's work. They also have historic pieces on the upper level. If you are ever-so-lucky, you may even find Nancy working in the gallery that day.
So if you are staying around or passing through Beaufort, I hope you get a chance to take advantage of a few of these tips. And if you find something else notable, please be sure to comment!
This article was originally published on