20,000 Bees Swarm Pregnant Woman's Belly For Unique Maternity Shoot
by Sarah Hosseini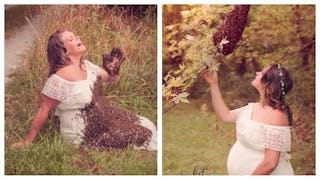 Image via Kendrah Damis Photography
Beekeeper's maternity shoot is bee-eautiful
Hearing the buzz of a single bee is enough to get most people a little nervous, but a swarm of them? Honey, that's a HELL NO. Unless of course, they're your friends. And you hang out with them every day, like Ohio beekeeper Emily Mueller.
The "bee whisperer" as she's called, wanted to incorporate her beloved honey bees in a maternity photo shoot. She's currently pregnant with her fourth child and feels extremely comfortable around bees. So she asked Kendrah Damis of Kendrah Damis Photography if she would do it. The photographer went all in and the results were incredible.
"When beekeeping came into my life, we had just suffered a miscarriage," Mueller writes in the comments section of her Facebook post. "I learned bees represent death and the beginning of a new life at a time I needed it most." She explains that before that miscarriage, she had suffered a previous loss. Doing the photo shoot was a way of representing all of her births and losses.
"I couldn't think of a more beautiful way than to use these gentle creatures that watched me grow and thrive through these experiences and have allowed me to become who I needed to be," she writes.
These honey bees are an intricate part of Mueller's life on so many levels. For one, bees are important for sustaining her life, my life, your life. Life on this whole planet in fact. If honey bees die off, the ecosystems go with it too. Additionally, these bees are not just Mueller's career and passion project, they are her healers during really difficult times.
"This whole experience has been spiritually healing for me. The heartache a mother suffers when losing a child is soul deepening," she tells Scary Mommy.
She says she's seen "bee bearding" done before. It's exactly as it sounds, it's where bees cling to a human's face in what looks like a beard. While it's enough to give any bee-phobic human nightmares, it served as inspiration to Mueller.
"I thought it would be an amazing experience to have these gentle insects photographed on my body, on my womb…where I have grown and cherished every child that was created by my body," she tells the Baby Center.
What is so great about this photo shoot is that it wasn't just moving for the subject, it was memorable for the photographer as well. She says she learned a lot about honey bees.
"Ever have a once in a lifetime experience?" Damis writes in a Facebook post with all of the photos.
"I wasn't scared, just a little uneasy having them buzzing around me and landing on me," Damis tells Scary Mommy. She explains that she was hired before the bee idea came into the picture. But once Mueller suggested it, she was totally on board.
"I am a pretty calm person so not too much gets me overly reactive," Damis says. "We scheduled the day and to make the bees swarm her she held the queen bee in a container in her hand on her tummy."
The two coordinated the best and safest way to pull the shoot off.
"I had joked around beforehand and told Emily I was charging $5 extra per bee sting! She made it out with no extra charge!" Damis says.
While the maternity shoot is certainly not everyone's cup of tea – it doesn't have to be. The beauty in honoring life and death, happiness and grief, is that you get to do it any way you want.
Mueller says she is not having any more children. Her fourth child will be her last. Which is why it was so important to mark it in a manner that was special to her.
"This photo shoot completed that circle for me and has allowed my heart to heal in ways no one will ever understand."
This article was originally published on