Your Guide To The Best Diaper Bags — Cute, Functional, & No Kiddie Print In Sight
by Jessica Waller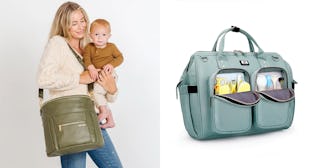 Fawn Designs / Amazon
If there's one thing you truly need with a new baby or a collective of toddlers, it's a diaper bag to keep you (and all that kid stuff) organized. Usually will all these kiddos running around you realize the inevitable: When you become a mom, you start dressing the part. Babies are prone to spills, squirts, leaks, and dribbles, which means pricey jeans and white tees are probably out of the question. Toddlers are fascinated with pulling and tugging, making the bob haircut your new BFF. This isn't all to say dressing for success as a new mama has to be so blasé, though. You just have to channel your individual style in unique and clever ways, and one of the best accessories to start with is a stylish diaper bag. You will be carrying this thing every-single-day and we mean for like, years.
RELATED: The Best Backpack Diaper Bags For Multi-Tasking Moms & Dads Who Carry A Ton Of Sh*t
Now, you might be wondering if stylish diaper bags actually exist. And to answer your question, yes, they do! And no, we aren't alluding to purses that are big enough to stuff your child's sh*t in (although that's always an option). Designers realize moms are so much more than their diaper-changing duties; they're heads of households, businesswomen, corporate bosses, writers, teachers, and more. As a result, your diaper bag should suit both your baby's needs and your lifestyle.
Here are our favorite diaper bags that don't sacrifice fashion for function. And we know you don't have to spend a lot here, but if you're thinking of this as a cost-per-wear investment item, we've given you some good choices for the fancy bags, too. From cool diaper bags for dads to chic and stylish designer diaper bags that mom will love — these diaper bag options will have a place in your wardrobe long past the diaper years. The best part? They're all very cleverly made to make things easier for parents on the go. Did you even know diaper bags could come with stroller clips, tissue dispensers, or diaper changing stations? #mindblown
Best Diaper Bags
Unisex Diaper Bags
Best Small Diaper Bag
Designer Diaper Bags