8 Of The Best Educational And Thought-Provoking Kindergarten Books For A Five-Year-Old's Library
These are the books they'll remember for a lifetime.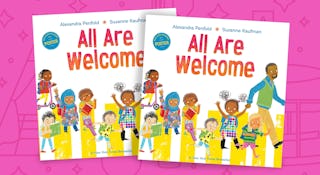 We may receive a portion of sales if you purchase a product through a link in this article.
Preparing for kindergarten can be emotional for everyone involved — kids, parents, even grandparents! Right about now you're probably wondering how these past few years went so fast, while your little cutie is wondering what the H-E-double-hockey-sticks kindergarten is. Luckily, there are several kindergarten books out there that can make this transition a little easier on everyone.
In addition to books that can help your kiddo prepare for the big first day of school, there are also incredible books available for you and your little student to explore. From classic kindergarten tales to newer age-appropriate books with progressive themes, there's a kindergarten-level book for just about any topic you may want to discuss with your child. And reading time is always good time spent together.
The worst part about growing up is outgrowing Junie B. Jones. The best part about becoming a parent is reliving the adorable, innocent, and sassy series with your own kids. When Barbara Park created the #1 New York Times bestselling Junie B. Jones series for children, she changed the way kids read stories. Junie B. Jones is the world's funniest kindergartener, but she's also a relatable character with a story that's easy and simple to decipher for young readers. This value-pack may be costlier than some other kindergartener-friendly books on this list, but that's because this box set includes 17 of Junie's best, most adventurous kindergarten stories. It also comes with an exclusive paper-doll bonus so your child can get creative and use their imagination to recreate scenes from each chapter and act out what's happening in the book. With over 65 million copies of Junie's stories sold, it's no wonder she's a fan-favorite amongst kids.
One Reviewer Wrote: "Our child loves reading these. She started reading these after Christmas and has finished four of them in under a month. These are the first chapter books she's ever read. She loves little stories and the graphics and the people in them." — doer-
Dexter is a total kindergarten pro — after all, his big sister Jessie told him everything he needs to know before his very first day. While he's not nervous or scared at all, his stuffed dog, Rufus, is. Throughout the book, Dexter and Rufus learn together all the reasons why they shouldn't fear going to school for the first time. Kindergarten Rocks! is the perfect book for easing your kids into the school transition. Read it to your little one over the summer to fully prepare them for kindergarten come fall. And who knows? Your kindergartener might fall in love with this book and want to continue to read it even as they go into first, second, or third grade.
One Reviewer Wrote: "Great book for a kid entering kindergarten soon. The illustrations are colorful and the story is relatable. We have read it over and over in the months since we got it. I am hopeful it will help with the transition this fall." — RebeccaG
We should all be feminists. That's a popular motto that Franny's father, one of the main characters in Franny's Father Is a Feminist, would totally agree with. Franny's dad knows that girls can do whatever boys can. He's dedicated to empowering Franny and making her feel just as strong, powerful, and capable as anyone else. After all, Franny is strong, powerful, and capable! For parents who want to explain feminism to their children and also show their kids that men (and dads!) can be feminists, too, buck gender norms with this illustrated book from Rhonda Leet. Each page is full of easy-to-read, simple, and sweet prose, and Franny's father is a loveable, relatable, and modern character who will really resonates with young feminists in training. All Franny's father wants for her is to grow up confident, smart, and strong. If you're a parent who also wants that for your kid, then check out Franny's Father Is a Feminist.
One Reviewer Wrote: "This is an adorable little book! There is a message that is subtly given about how a father can be a feminist without being emasculated. Whether a father is a father to boys or girls, this book has a great message about labels. And the message works to address the need for gender neutrality. I love it. Thank you Rhonda Leet for a wonderful book!" — BATDADNMOM
Going to school for the first time can be scary and anxiety-inducing for many reasons. First, the school may be the first time your child has had to separate from you. Second — and we all know this — it can be frightening to have to put yourself out there and make friends. In Jacqueline Woodson's The Day You Begin, kids learn how to accept differences and move past any fear that being different could cause. Kids may be concerned about reaching out to others at school if they don't feel comfortable, which is why The Day You Begin teaches children that it's okay to feel different. Whether there's a language barrier, a difference in diet, or how you look or talk, there is room for everybody at school, Woodson says. If her lyrical prose isn't enough to get your child's attention, Pura Belpré's vibrant illustrations will.
One Reviewer Wrote: "The kind of book that makes you weep the first time you read it and then feel like you HAVE to read this aloud to the kids in your class, family, community. We are all unique or not quite like others--which can make us feel alone in the world UNTIL we start to share our stories, [and] our lives with others. Then we find that we are similar in some ways to those around us or that others are open to the new world we might introduce to them." — Sunday C
How lucky is Emily Elizabeth to have a friend like Clifford the Big Red Dog to start kindergarten with? So lucky! Your elementary schooler will enjoy reading along with you as Clifford helps make Emily Elizabeth's kindergarten transition just a little bit easier. And an exciting side effect might just be that your child's kindergarten transition gets a little smoother, too. Sure, the teacher said Emily Elizabeth could bring something from home to make her feel better — but we're pretty sure the teacher wasn't banking on something as big — or as red — as Clifford. Clifford is one of the most comforting, timeless characters in the kindergarten space, so this big red book is sure to give your young one some relief. The best part about this book — besides its relatability and the comfort it brings young kids — is how inexpensive it is.
One Reviewer Wrote: "My grandson loves the Clifford books. Since he started kindergarten this year, I ordered this book special for him. He really likes it." — MiMi
This allegorical picture book by Duncan Tonatiuh follows the story of a young rabbit named Pancho as he eagerly waits for his Papa Rabbit to come back home. Papa left his family two years ago so that he could find work in the great carrot and lettuce fields to earn money for his family. Pancho leaves to find his father and stumbles upon a coyote. In a twisty tale reminiscent of the classic Gingerbread Man tale, Pancho has to fight off the hungry coyote and find his father. Pancho Rabbit and the Coyote: A Migrant's Tale is the perfect bedtime story to share with kindergarteners to open their eyes to different perspectives. Tonatiuh's work seeks to bring light into the lives of any immigrant that has faced hardship or struggle while trying to make life better for themselves and their families by crossing the border.
One Reviewer Wrote: "This is a great children's book. The students I read it to at school loved the animal characters and got really excited to read about mole and other foods they love. These were younger students so I had to explicitly tell them what "el norte" meant, but once I told them I could see the wheels turning in their heads. I appreciate the author's ability to weave immigration problems into a children's book without scaring kids but while at the same time bringing important topics to light." — 100_Pages_Hr
Do you have a nervous kindergartener who is prepping for their first day of school? Author Natasha Wing reimagines the classic Christmas story 'Twas the Night Before Christmas, keeping all the integrity and rhyming scheme of the original long-form poem. Except this version is for kids gearing up for the big first day! This book will mentally prepare your kids for almost every aspect of their first day. From how to pack supplies and pose for first-day pics, to how to get ready to say goodbye to your parents, this book does it all. You can even make a game of it by prepping for their first day. Read the book after packing school supplies, then after the book is finished, help your little one pick out their first-day outfit.
One Reviewer Wrote: "Great book! I read this with both my daughters at the start of kindergarten and I gifted this to my godson as he is now entering kindergarten. The perfect gift to bring excitement and decrease anxieties on their first day of big school." — MommyOf2Ladybugs
With four and a half stars on Amazon, All Are Welcome by Alexandra Penfold is a fan favorite amongst both adults and kids. This picture book creates an inviting space thanks to welcoming prose and vibrant pictures. In All Are Welcome, your children will meet all different kinds of children: Students who wear patkas, hijabs, and yarmulkes. Each child plays side-by-side and everyone learns from each other. They get together to celebrate the Lunar New Year in this New York Times bestseller that will have your kids asking to read it again and again before bedtime. The moral of the story is no matter what, children are welcome. There's a place for everyone at the table and everyone is welcomed with open arms at school.
One Reviewer Wrote: "I was so happy the words are not overly simple like some kids books. This is adaptable for a range of ages. You can read it to very little ones and as they get older you can read it together, plus you can have more critical discussions about the ideas and the scenes depicted." — Louise
Found your great new kindergarten library? Don't forget the bigger kids need some new books and kids gear, too.
This article was originally published on