The 11 Best Potty Training Underwear — To Save Your Carpet And Your Sanity
We only recommend products we love and that we think you will, too. We may receive a portion of sales from products purchased from this article, which was written by our Commerce team.
Written by Lauren Beach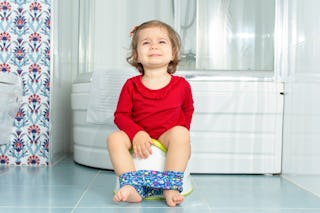 Shutterstock
Choosing the right potty training pants can feel like a, let's say, loaded issue. Whether it's your first child and potty training is cloaked in mystery, or you're trying to motivate a reluctant potty trainer (or one going through a regression), potty training is a lot. But the best potty training underwear can help make the process a little easier for everyone.
Here's what you need to know about each type of training pant:
Disposable potty training pants offer convenience (no washing!) and are required by most daycares. They often feature a wetness indicator, kid-friendly characters, and tear-away sides perfect for removing a sticky situation. There are even some plant-based options, making them a more eco- and skin-friendly option than ever before.
Cloth potty training pants are an even more environmentally-friendly choice because they're reusable. While you do have to keep up with laundry, you won't have to shell out to buy more disposables from week to week. Cloth options feature an absorbent liner that doesn't hold as much as disposables but does allow a child to feel wetness faster. The underwear-like fabric and fit offer a big-kid feel.
Whichever type fits your lifestyle, you can motivate your little one by involving them. While "Yes, Yes Vegetables" may haunt your dreams, you can harness the power of your tyke's CoComelon obsession. "Toddlers' interest in cartoon, TV, and internet characters can entice them to further their progress in potty training. Being able to wear their cherished underwear becomes their reward," explains James A. Waler, MD, board-certified pediatrician and author of The Owner's Manual, A Parent's Guide and Medical Record for a Child's First Two Years.
The potty training process involves plateaus and regressions and may last longer than expected — and that's okay. Keep in mind "the vast majority of toddlers" will likely need nighttime protection "for months to years before being able to wear underwear through the night," according to Dr. Waler.
Until you reach the promised land of regular underwear (it does happen, I promise), here are the 11 best potty training underwear that will stop leaks and end the 3 a.m. sheet changes.