Prenatal Vitamins That Are Filled With Goodness And Don't Taste Like Sh*t
We only recommend products we love and that we think you will, too. We may receive a portion of sales from products purchased from this article, which was written by our Commerce team.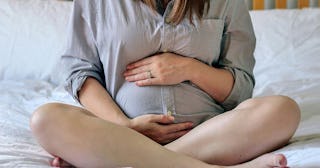 Getty
Thankfully, moms of today have fatefully avoided the prehistoric prenatal vitamin that our own mothers had to swallow — aka the near thumb-sized horse pill — during pregnancy (or breastfeeding). Now, there are countless varieties available, from candy-like gummies to the quintessential protein shake. Sure, the pill and tablet varieties are still a thing, and your OB might even tell you they are a cut above the rest, but the reality is that most prenatals on the market today are filled with the same, good-for-you and good-for-baby stuff (folic acid, vitamins B, C and D, calcium, thiamine, riboflavin and the list goes on).
RELATED: 8 Best Nutritionist Recommended Vitamins & Supplements For Kids of All Ages
Prenatal vitamins are a pretty big deal—they give your baby-to-be the nutrients needed to grow and develop properly. In fact, studies have shown that taking prenatal vitamins may even help prevent birth defects. They also may help prevent postpartum hair loss, which (like it or not) happens to most of us some three to four months after delivery.
The downside of prenatals? They don't help with that morning sickness you're feeling morning, noon and night. That's why it's important to choose a prenatal that you actually like—a.k.a don't mind taking—considering you'll be gulping that goodie down every damn day. To give your search a little gusto, here are the most edible (hell, even tasty) prenatal vitamins on the market that are not your mama's horse pills. (Pro tip: Never pop your prenatal on an empty stomach, or you're sure to spend the next hour hovering over your toilet. You're welcome).
Now that you've found your go-to prenatal vitamin, be sure to stock up on these other important pregnancy essentials.
This article was originally published on