The 7 Best Toddler Blankets For Cozy Snuggles
We only recommend products we love and that we think you will, too. We may receive a portion of sales from products purchased from this article, which was written by our Commerce team.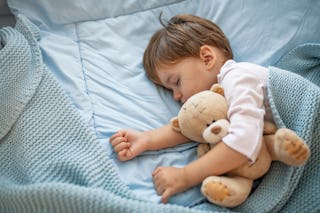 Shutterstock
A good blanket can help you stay warm or sleep (or nap) more comfortably, and the same goes for your toddler, too. The best toddler blankets should be size-appropriate for your little one and more lightweight to accommodate their smaller bodies. Once your baby celebrates their first birthday — though ideally 18 months old — it's generally considered safe to add a blanket to their crib. Toddler blankets should also be durable and easy to clean, because no matter what your best efforts are, toddlers are somehow constantly covered in dirt, marker ink, and/or random particles of food you don't remember them eating.
What To Look For When Shopping For Toddler Blankets
When shopping for toddler blankets, there are a number of factors to consider, including fabric: cotton and bamboo are more lightweight and breathable while polyester can provide more warmth. Either way, you'll want it to be easy to care for, so this list rounds up only machine-washable blankets. Lightweight options are also useful in case you need to schlep a blanket between a bedroom and car and back again, but a warmer blanket might be ideal for use at home.
Here's what to keep in mind on blanket construction. A muslin blanket has a looser weave that allows for greater airflow and flexibility, so it's both lightweight and durable. A jersey knit is soft and stretchy — think of your favorite tee. For something warmer, a sherpa blanket has more heft and texture while a micro-fleece has an ultra-smooth and soft finish that's super cozy.
And you may also want a style or print that matches their personality — it might even get them excited for a nap or bedtime (here's hoping, at least). Whether you're looking for a muslin option for breathability or a sherpa one for plushness, here are seven toddler blankets both you and your little one will love.
In a hurry? Here are the top picks for the best toddler blankets.
1. The Overall Best Toddler Blanket: Burt's Bees Baby Reversible Quilt
2. The Best Toddler Blanket Under $15: BORITAR Double-Layered Blanket
3. The Best Lightweight Toddler Blanket: Little Jump Muslin Blanket
About the Recommender
Lesley Chen has been a contributor for ScaryMommy since 2019 and covers shopping picks for busy parents, including everything from products to cover up kid-induced gray hairs to natural mood boosters. In addition, Lesley has covered general lifestyle topics for a number of different publications, and her work has been featured on BuzzFeed, SFGate, Well + Good, and other sites.