The 9 Best Tweezers For Everything From Grooming Eyebrows To Yanking Out Splinters
by Rachel Aschenbrand-Robinson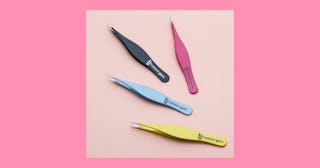 The importance of a great set of tweezers in your beauty (and parenting) tool kit cannot be overstated. For everything from brow shaping to yanking out splinters— a pair of effective, effortless, and (almost) pain-free pluckers is a must-have. But with tons of options out there, finding the best tweezers for your needs can be, in a word, overwhelming. To help identify your perfect set, we turned to Fern Marcus, President of the Swiss brand, Regine Tweezer— where each handmade pair of tweezers goes through a 40-step process to perfect tip alignment, tension, and angle, before reaching final examination under a microscope.
So what makes the best tweezers, well, the best? According to Marcus, it comes down to several key features. A really great pair of tweezers will have perfect alignment, for one. "When the tips of the tweezers are in perfect alignment, they will pull each hair from the root every time," says Marcus, "Less tugging means less pain! Misaligned tips will make it hard to pluck each hair from the root effectively because the tweezers slip or break the hair and that's what causes more painful plucking." Tension is also paramount, as it will allow you to get a perfect grip on the hair and pull it out from the root.
The best tweezers will also come in surgical-grade stainless steel, according to Marcus, who notes, "It's very important that tweezers are made of surgical grade stainless steel so you can sanitize the tweezers after each use without them rusting or tarnishing. Make sure you look for steel that is tempered–the hardening process strengthens the steel so that the tweezers will never require sharpening and they will never lose their edge. The tempering process also means that they will last a lifetime."
Whether you're looking for the best tweezers for plucking brow- or facial hairs, or a set that will draw out in-growns and splinters, there's an option awaiting you ahead. Scroll on to snag your perfect pair.
The best tweezers for removing ouchies like splinters, glass, and even ingrown hairs? A pair with a pointed tip like these from TweezerGuru. They come with a perfectly calibrated tension for easy tweezing and maneuverability, and out of nearly 4,000 reviews, 84% give this precision set a score of 4 or 5. Sharp enough to take on even the tiniest epidermis invaders? We'll take it.
One Reviewer Wrote: "Have bought these a few times and so far they are the best I've found. Great for the fine hairs that other tweezers can't grab or just slide on. Have pairs of these at home, work, and in the car." — Becca Bunny
If you've been wondering why slant tip is an eyebrow choice (versus a pointy tip for splinters), it's the 25-degree slant that lets you grip the hair from the root without poking your eye area. This is the eyebrow-taming tweezer loved for its precision. Leave it to the Swiss Craftsmen for making it perfect. The only thing better would be if it were lined with diamonds (yes, we said that, and it exists, see below). Regine tweezers undergo a rigorous process and all come with a lifetime guarantee. Reviewers rave about their Regine's and boast that they'll last a lifetime.
One Reviewer Wrote: "These are the best tweezers I have ever used. If it grabs the hair, it's coming out. First time every time. Love them so much I bought some for my sister and [my] wife's best friend as a gift. My wife said I was crazy for buying them, they are expensive. Then she used them and agreed, they are the best." — scifi
Diamonds you say? Oh, yes. These precision pluckers, which are also available from the Regine shop on Amazon, are made from rustproof, surgical-grade stainless steel. Especially perfect for ingrown hairs and splinters, these tweezers will save you a ton of frustration. The diamond tip is perfect for grasping even the finest of hairs. These tweezers will never need to be sharpened — in fact, they very well may be the last pair of tweezers you'll ever need to buy.
One Reviewer Wrote: "Worth every penny! Why did it take me so long to make the investment in a great pair of tweezers like these? Any woman who does her own eyebrows needs this, ingrown hairs, not a match for these tweezers, as a mom these make for tear-free splinter removal for my kids. These are absolute precision tweezers and do exactly what they say they do." — MonikaJ
These tweezers have almost 2,000 five-star reviews from customers who now swear they can't live without them. The slanted, hand-filed tips are designed to grab even the smallest, finest hairs by the root with minimal pressure applied–no matter if you're plucking at the eyebrow, chin (ahem), or elsewhere. They're available in three fun colors, so you can buy a set for everyone in the family.
One Reviewer Wrote: "LOVE these tweezers! I misplaced the first ones I purchased three years ago and after desperately searching for a month I caved and bought another pair. These tweezers last longer than any Tweezerman I've owned and come in the prettiest shade of rose gold!" — Melissa
It's hard to ignore the whopping 29,000 five-star reviews that these tweezers have gotten on Amazon, especially when so many of them state how accurate and easy to hold they are. Created with carefully calibrated tension and slant-tip alignment, as well as a non-slip matte finish, it's no wonder why they stand out from the rest. But, one of the best parts of all? The affordable price.
One Reviewer Wrote: "These tweezers effortlessly grab onto the tiniest individual hair on the first try. So easy to use and mostly pain-free. These are high-quality precision tweezers at a great price!" — Steve
This 5-pack includes a flat, curved, pointed slant, slant, and pointed tweezer, so whether you're looking to groom your eyebrows, remove a splinter, or pull out an ingrown hair, you're covered. Made of surgical-grade stainless steel, each of these tweezers comes with a slip-free design and rubber tips to keep them protected. Five tweezers for under $15? That's kind of hard to beat.
One Reviewer Wrote: "This is a nice selection of tweezers, in pretty colors, and they all work for various purposes. The edges are sharp on the yellow and blue ones and the peach one has a sharp pointy tip. These are definitely for adult use and not while in motion. The mint-colored one has a blunter tip but still grips well. I like them for removing the tiny thin hairs that other tweezers can't grasp." — Borderjack
Tweezerman tweezers are arguably the most well-known–and well-loved–of any brand in the brow-grooming space, and with good reason. This mini slant tweezer is a travel-size version of the iconic original (yes, eyebrow tweezers can be iconic). The perfectly-aligned, hand-filed tips have a 25-degree slant for grabbing hairs out from the root, meaning this TSA-compliant set works as well as its larger predecessor.
One Reviewer Wrote: "I have purchased probably about 25 pairs of tweezers in just about three years and they've all been terrible. I use them for eyebrows. My sister has been telling me to buy Tweezerman forever but I didn't listen until now and I should have. These are excellent. Much better than any of the others. They're precise and they can get even the finer hairs. These ones are travel size so they are quite small but still get the job done. 10/10 recommend." — Amazon Customer
Leave it to the brow queen to create an expert-level grooming tool. These stainless steel eyebrow tweezers have a custom slanted tip and a carefully-calibrated tension, meaning they can grab those teeny-tiny, hard-to-snag hairs (yes, please). You'll never need to sharpen these, either. What's not to love?
One Reviewer Wrote: "During my Google research the Anastasia Beverly Hills tweezer was constantly being [placed] at or near the top of recommendations. Seeing this I decided to pull the trigger even though its cost was way more than most. Well, I'm happy to report that my purchase was worth every dollar. Why? It works as advertised. I could tell within seconds of just holding it that its grip was very precise. Then when I started plucking my ear hairs I was blown away." — Francisco Pacheco
The makers of this set took special care to design tweezers that won't allow hairs to slip through or break off. Made of surgical grade stainless steel, these slant-tip eyebrow tweezers have just the right amount of resistance and perfect alignment–and they're meant for both men and women to snag brow hairs, errant facial hairs, and the like. Over 3,000 people gave them praise in the form of a five-star review.
One Reviewer Wrote: "Great pair of tweezers with [a] strong grip. I use these professionally and personally! Great quality." — Bellissima
Now that you've found the best tweezers for you, shop more beauty must-haves to stock your medicine cabinet!