Pregnancy Shapewear Real Moms And Moms-To-Be Swear By
by Tabitha Britt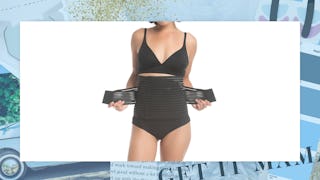 Pregnancy shapewear isn't just for celebrity moms-to-be. In fact, pregnancy shapewear is popular amongst regular pregnant women, too. You know, normal humans who aren't being criticized by the public eye every waking second of the day. Some mamas-to-be even go as far as to say that pregnancy shapewear (along with comfortable shoes for pregnancy and maternity underwear if we're being real here) was a "lifesaver" during their pregnancy.
"Pregnancy shapewear was amazing for me!" says mommy blogger, Kallie Myer from Provo, Utah. "It helped a ton with my back aches and relieved the itchiness from my belly band. It was a lifesaver. I really think every pregnant woman should wear them because shapewear is so comfortable."
What is pregnancy shapewear?
Unlike traditional shapewear, pregnancy shapewear isn't designed to "shape" the body. Instead, it's meant to provide support and comfort for a soon-to-be mother's growing bump. (It's also a great option for postpartum moms who are desperately looking for something that's comfortable and confident-boosting.)
"As a plus-size expecting mom, finding and wearing the right pregnancy shapewear has been a game-changer!" blogger, Shalona London from Fort Lauderdale, FL tells Scary Mommy."Not only does it help relieve most of the pain but using shapewear also helps round out my baby bump. This is my second pregnancy; I'm currently 28 weeks preggo," London continues. "I didn't need maternity shapewear with my first pregnancy, but I must say that I can't live without my pregnancy shapewear this time around."
Is pregnancy shapewear safe?
If you're wondering whether or not pregnancy shapewear is safe to wear, the super-quick answer is: Yes! (As long as you aren't constricting your growing belly.)
"Maternity shapewear can help improve posture and take weight off of your back as your pregnancy bump grows," Lucky Sekhon, MD, a New York City-based fertility specialist, and board-certified OB/GYN tells Well And Good. "It can also be more comfortable than your regular underwear or tights, which are prone to slipping and bunching."
This is particularly important at the beginning of pregnancy, Sekhon notes, as pre-pregnancy underwear may kind of fit but not exactly the way it should. "As long as you aren't wearing the type that constricts at the tummy, it is completely safe, and likely to be very comfortable, to wear maternity shapewear," she says.
In addition to helping pregnant mamas feel confident and comfortable, Sekhon says pregnancy shapewear can provide support to a healing C-section incision too, "especially when the abdominal muscles are strained, such as when coughing, laughing, sneezing, lifting, or getting up to sit from a lying position."
What is the best pregnancy shapewear?
Like any other garment you shop for, it's important to note that not all bodies are designed the same, and pregnancy shapewear isn't for everyone. (It really just depends on what's comfortable for YOU.)
If you do choose to purchase pregnancy shapewear, make sure you're buying something that's actually designed for pregnant or postpartum individuals. Why? Because buying regular shapewear could cause a slew of problems, such as skin irritation and reduced blood circulation. Here's some highly rated pregnancy shapewear by real moms.
This article was originally published on