Book Ban Efforts At Schools & Libraries Hit A Record High Last Year
The amount of challenges nearly doubled the previous record total set in 2021.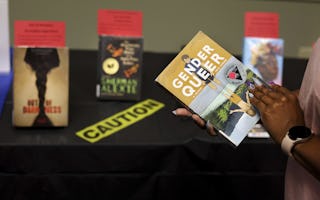 Chicago Tribune/Tribune News Service/Getty Images
Book banning is nothing new; it's been around for hundreds of years. The first book ban in the United States is said to have taken place as early as 1637.
Due to differing political viewpoints and religious extremism, attempts at banning certain books from schools and libraries has become common practice. In 2022, book banning and challenging was more common than ever before.
According to a new report from the American Library Association (ALA), more than 1,200 book challenges were compiled by the association in 2022, nearly doubling the then-record total from 2021 and by far the most they've seen, the ALA has seen since they began keeping data 20 years ago.
"I've never seen anything like this," Deborah Caldwell-Stone, ALA's Director of Office for Intellectual Freedom, told the Associated Press. "The last two years have been exhausting, frightening, outrage inducing."
Last year, more than 2,500 different books were challenged, compared to 1,858 in 2021 and just 566 in 2019. In numerous cases, hundreds of books were challenged in a single complaint, a change from years prior when complaints usually arose referring to an individual book.
The rise in book banning efforts could be pinpointed to requests for multiple books to be removed from schools and libraries at one time, the AP reports.
These large calls of action are being organized by conservatives organizations such as Moms for Liberty, which has a mission of "unifying, educating and empowering parents to defend their parental rights at all levels of government."
According to CBS News, during the 2021-2022 school year, more than 1,600 books were banned from school libraries. 41% of those that were banned included LGBTQ themes, protagonists or prominent secondary characters. 40% of banned books included people of color.
Books with issues of race and racism (21%) and books with themes of rights and activism (10%) were also among those banned. About 22% of the books that were banned had sexual content. Biographies, autobiographies and stories about religious minorities are also on the list of banned books.
Books like Maia Kobabe's Gender Queer, Jonathan Evison's Lawn Boy, and Angie Thomas' The Hate U Give have all been in the top 10 list of challenged books.
The attack on libraries does not end with conservatives groups; it's gotten a lot more personal. Librarians all over the country have dealt with harassment, violent threats, and even defamation of character.
"Every day professional librarians sit down with parents to thoughtfully determine what reading material is best suited for their child's needs," ALA President Lessa Kanani'opua Pelayo-Lozada said in a statement. "Now, many library workers face threats to their employment, their personal safety, and in some cases, threats of prosecution for providing books to youth they and their parents want to read."
Amanda Jones, a librarian in Louisiana, filed a defamation lawsuit, claiming that a conservative activist group called Citizens for a New Louisiana falsely accused her of being a pedophile.
"I've had enough for everybody," Jones said in an interview with NBC News in August 2022. "Nobody stands up to these people. They just say what they want and there are no repercussions and they ruin people's reputations and there's no consequences."
Book ban efforts have also made their way into lawmaking with several bills being proposed or passed in Arizona, Iowa, Texas, Missouri and Oklahoma.
In Florida, Gov. Ron DeSantis approved laws to review reading materials and limit classroom discussion of gender identity. The law will force all elementary schools to provide a searchable list of every book available in their libraries or used in instruction.
He also approved certain books to be pulled, including John Green's Looking for Alaska and Margaret Atwood's The Handmaid's Tale.
PEN America — a non-profit organization that works to "protect free expression in the United States and worldwide" — believes the record-breaking amount of book banning is unconstitutional and not in the best interest of the American people, who statistically don't even want this type of conflict.
"This movement to ban books is deeply undemocratic, in that it often seeks to impose restrictions on all students and families based on the preferences of those calling for the bans and notwithstanding polls that consistently show that Americans of all political persuasions oppose book bans," PEN America said, citing a CBS News poll that found more than eight in 10 Americans don't think books should be banned from schools for discussing race and criticizing U.S. history, for depicting slavery in the past, or, more broadly for political ideas they disagree with.