This Mom's Genius Parenting Hack Makes Teething So Much Easier
by Megan Zander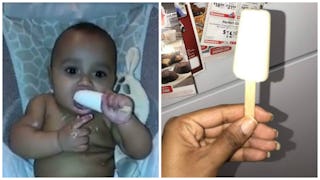 Images via Facebook/Tasia Blackwell
Milksicle, anyone?
If you have a child that's older than six months, then you're probably very familiar with the horror that is teething. Yes, cutting baby teeth is a major milestone, but you hate to see your kiddo in pain and discomfort. Luckily, one mom shared her genius parenting hack to make teething much easier for your little one.
Mom Tasia Blackwell shared a video of her infant son loving on a "milksicle" – a frozen pop made of breastmilk. Blackwell explains in her post that the experiment was a total success. "The milksicles are a hit," she writes. "Helps with his teething pain and helps fill up his tummy."
Alongside the video, Blackwell posted photos showing how she stores her breastmilk pops in individual breastmilk freezer bags with the date written on top. If you're going to freeze your breastmilk for later anyway, this is a fantastic and easy trick to try for fussy teething babies. Just grab some breastmilk, a freezer pop mold and a wooden craft stick. You could even make breastmilk ice cubes to give your baby in a mesh feeder if you're too tired to dig out a freezer pop mold.
Her video has been viewed over 20 million times and shared a whopping 243,000 times and counting. People love her adorable baby boy and the way he's happily slurping down his milksicle. Everyone is either thankful for the idea or wondering, "Why didn't I think of that?!"
My twins are preschoolers now, but I remember the teething phase well. They would gnaw on their hands and cry their little hearts out. It felt like nothing I did could help soothe them. I tried the gels and gave them those plastic teethers you put in the freezer. I broke down and bought that pricey giraffe. I even tried my mom's suggestion of sticking a wet washcloth in the freezer and letting them chew on it. Nothing seemed to work. What's worse is that they didn't want to eat because their gums were hurting so much.
The milksicle is a perfect solution to the problem. Not only is it cold and soothing, but it's actually nutritious. Sure, you'll have to pop them in the tub afterwards to make sure that amazing baby smell isn't replaced by the slightly cheesy aroma that happens when milk dries. But that's a small price to pay to see your baby both full and content.
Babies don't come with instruction manuals. We're on board with any little tip or trick that can help make this parenting thing easier and the milksicle is a seriously smart idea.
This article was originally published on