How Bruno Mars Helped My Son Find His Voice
by Jeanine Rainey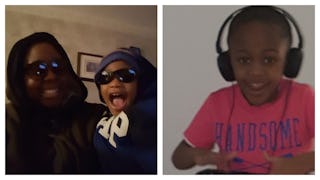 Jeanine Rainey
"Twenty-four carat magic in the AAAIIIIRRRR!" The sound caused her to slowly peek around the corner into the kitchen where then 4-year-old Nate stood facing the radio, eye-level with the speaker, bellowing at the top of his lungs the lyrics to the chorus.
My aunt told me the story as she reported on her recent babysitting experience. "I couldn't believe he was singing!" she said, astounded by her great-nephew's vigor and excitement as he attempted to croon the lyrics to the song with his best Bruno Mars interpretation. That was November 2017.
For most parents, hearing their 4-year-old singing the theme songs to "Bubble Guppies," the Sesame Street counting song, or even a Kidz Bop version of "That's What I Like" is not an anomaly, or even an occasion to be celebrated—as I'm sure many parents have learned the art of tuning out their children when they are on the 1,000th rendition of "Let it Go" (from Frozen) or "How Far I'll Go" (from Moana).
But for a parent of a child with apraxia, every sound uttered is music to our ears. Every syllable expressed becomes a milestone, and every word mastered is a celebration.
"When I see your face there's not a thing that I would change…"
Nathaniel Bruce (Nate) was born February 6, 2013. A bouncing 5 lbs 4oz, he affectionately became the nursing staff's little peanut. The pregnancy was normal. Somewhat. I wasn't confirmed pregnant until the beginning of my third trimester. So while I didn't exactly qualify as a candidate for one of those "I didn't know I was pregnant" tv shows, I definitely could've been a runner-up.
Despite this oversight, Nate was given a clean bill of health, and progressed throughout his years as all kids do, meeting his developmental milestones on cue. He rolled, then ran. He cooed then said, "Boo," each day showing his intelligence and his funny grin.
I was in awe of his personality and energy, which is why I wasn't concerned when I became a single mom when he was 15 months, and why I wasn't worried when he began daycare for the first time in August 2014 and received his first germy kid cold. With it, came the diagnosis of his asthma.
Those next few months were a blur as I adjusted to my new role as single parent and the many hats I wore in my every day life (graduate student, high school teacher, managing childhood asthma in an active toddler, and mom). I failed to notice Nate's "coos" and "boos" suddenly stopped.
By October, he'd stopped talking completely. And even though he was already inundated with doctor visits and hospital stays as we worked to manage his asthma, we added more doctor visits and hearing screenings to get to the bottom of mystery. His first germy kid cold that enflamed his asthma, left his ears clogged. The end result? January 2015 bilateral tube placement just weeks before his 2nd birthday.
I thought the words would come flowing back. He could hear—everything was fine. Right? But it wasn't. He couldn't mimic the sounds he could before. Nate still didn't speak. Add in his toe-walking and it was enough to have his pediatrician not only have him fitted for braces (AFOs) but we were recommended to the hospital's speech therapy affiliate.
Nate and I spent that summer learning to communicate with sign language. The therapist managed to get a few sounds out—but he wasn't making any gains and the end of the summer meant I'd have to return to work and would be unable to bring him back to therapy. I was worried and went back to Nate's doctor looking for a solution. So we were recommended to the state's birth-to-3 program. We were assigned a social worker. The evaluation gave him PT, OT and speech therapists.
He was now 2.5 years old and I knew he needed a more permanent solution. As I explained to the social worker, I needed to know what's going on with my kid… whatever it may be. We were recommended to the city's best developmental physician center. And after a thorough examination, we had our answer — developmental childhood apraxia of speech.
"Everyday it will rain," I cried. I blamed myself. Was it because of my pregnancy? Did I do something wrong as his mother? I was confused and angry. I was lost.
I reached out to my step-sister. Her daughter suffers from severe autism, and my sister was also a single mom. After calming my nerves, she encouraged me to do some research and create a plan. Which is what I did.
I learned apraxia affects all parts of the body—and it's simply a disconnect between the brain and the body that is affected. Through early detection and therapy, the brain can be taught to sync correctly with the affected area. Which meant for Nate—lots of speech therapy. Fortunately, being a teacher, and having an aunt as a special education teacher, I knew how to find the resources Nate needed. He started his private speech therapy program in the spring of 2016. I remember the day he called me "Mommy" at age 3 and a half. I cried. Just as I did several weeks ago as my mother played the video of his singing her the "Happy Birthday" song for her 60th.
"We out here drippin in Finesse!"
Nothing can stop Nate's natural swag. His personality is so large it fills any room he's in and everyone wants to be apart of his joyful energy. Music unlocked his voice, and he's often spotted with headphones and his guitar singing away. Nate is well-aware of his apraxia and will wait patiently for others to process what he is saying or repeat himself as often as necessary. Getting ready for kindergarten finds Nate learning how to use his AAC device. I can't wait for Nate to show the world all he knows "..cause [he's] amazing…"
This article was originally published on