You Can Now Buy A 7-Foot 'Buddy The Elf' Inflatable
by Sarah Bregel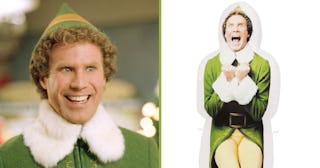 New Line Cinema and Target
You can always count on Buddy the Elf to bring the Christmas magic to your home
Christmas is not that far off, friends. So, if you haven't started buying your decorations just yet, now is the perfect time. That's right — time for the tinsel and the ornaments and the wreaths and lights that twinkle and shine, oh my! Even after grabbing all the usual items, if you're still in need of that extra special thing that makes your house the most Christmassy on the block, have we got the thing for you: A Buddy the Elf inflatable for your front yard, porch, stoop, or even living room.
Inflatables have really been blowing up (pun-intended) in recent years, but whether you love them or hate them, it's hard to not want this giant Buddy the Elf. It kind of takes the cake. Or, perhaps the bowl of syrup-covered spaghetti would be more accurate. Because you just can't have Christmas without Buddy the Elf. He makes everything better and way more hilarious.
I mean, we all know that the best way to spread Christmas cheer is singing loud for all the hear, but the second best way? It just has to be buying this inflatable that is brimming with Christmas excitement.
Seriously, you can practically hear Buddy yelling "Santa! I KNOW HIM." Look how happy he is.
Christmas really is the most magical time of year, though only Buddy can bring this kind of joy into your home, as elves were meant to do.
If your family doesn't already have the habit of quoting the much-loved film from the day after Thanksgiving until New Year's, we're guessing this inflatable will change things a bit. The film has become a Christmas staple, after all. You just can't get through the holiday season without watching Elf a few times, at least. Really, why would you even try?
The inflatable is available at Target for $50, as well as on Amazon. If that information has you smiling from ear to ear, go ahead and snag it. Then, at least every time you walk by and see Buddy's infectious grin, you'll probably wind up saying, "I just like to smile. Smiling's my favorite." Or maybe start calling everyone in your family a cotton-headed ninny muggins.
Buddy is really peak Christmas spirit. He's just so joyful. And you will be, too, with him hanging around your house, spreading all the cheer you could possibly ever need and more. He's an elf, after all. Joy is kind of his thing.
This article was originally published on