Why You Should Buy A Box Of Girl Scout Cookies
by Honora Gathings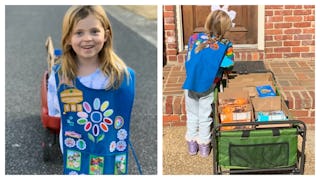 Honora Gathings
The little library down the street, the busy bags in the hands of patients at the children's hospital, the stuffed animals cuddled by children who have survived fires and other traumatic events, even the tiny garden outside a nursing home may have been created by Girl Scouts. These girls are always finding new ways to serve others. By buying just one box of Girl Scout cookies, you are helping these girls make a difference in your community.
Girl Scouts are hard to miss during cookie season. You may spot them pulling a heavy wagon down the street or standing outside a store. Perhaps one has even knocked on your door. They sell in rain, snow, and freezing temperatures. They walk miles in their neighborhoods. These girls often face rejection… and even get chased by a dog or two. But it doesn't stop them. It's their big fundraiser, which helps pay for troop activities, supplies, and service projects.
Girls as young as five-years-old are running their own business. They are learning to set goals and create plans to reach those goals. For most girls, that often involves trial and error.
My five and six-year-olds targeted family and friends with marketing emails. When those emails didn't get them to their goals, they spent four days going door to door in December. Last weekend, they hauled a wagon through neighborhoods for a combined total of nearly 10 hours. Those sales were between ballet, play practice and homework. They also hosted a virtual booth explaining what they do in Girl Scouts, what they've learned, and how cookies make a lasting impact on their lives and the community. The sales have also improved their math, confidence, public speaking and etiquette.
The cookie sales fund camping, STEM (science, technology, engineering, math), technology and environmental activities. My kindergarten Daisies have learned how to grow vegetables, how to crack codes, how to stay safe outdoors, how to identify venomous snakes, how computers work and how to sample plant and animal species living in creeks. My first graders have learned all of those things, as well as how to design a board game, how to design a model car, how to apply first aid, and how to stay safe in emergency situations.
They also complete numerous community service projects throughout the year by helping to put food on tables of families in need through canned food drives, planting trees at a local garden, picking up litter, packing gifts for children in a war-torn nation, collecting loose change and soda can tabs for a children's hospital, making treat bags for police officers and organizing a newspaper drive for an animal shelter. These gifts to the community are made possible thanks to your purchase of cookies.
The proceeds from each box of Girl Scout cookies stays local. Every year, the girls (yes, even the five-year-olds) decide how they will spend cookie money. Cookie sales funded "friendship coins" for one troop last year, which combatted bullying and promoted making friends through homemade coins with special pictures or inspirational quotes. They gave them out to people who needed a friend or a pick me up. The only request in return was for that child to play it forward and hand the coin off to a new friend or someone who wasn't having the best day. The idea was entirely theirs, and the project, like other Girl Scout endeavors, was 100% girl-led.
This year, one troop will be raising money for a project with a local children's hospital. The other is collecting cookies for local police officers and firefighters, as well as a service project with a local animal shelter. The details of both projects are still being worked out. The deciding factor? How much money the girls raise through cookie sales to invest in their community.
These girls may be small but they have big dreams and big hearts. The Girl Scout cookie program gives the girls the knowledge and resources to become their own entrepreneurs in the largest girl-lead business. It's one that many businesswomen credit for their success. Buy just one box of cookies or donate one the next time a Girl Scout asks. It's more than a gift to the girls, their troops and your community. You're investing in their futures and their dreams. Who knows, that young girl could one day change the world.
This article was originally published on