Some Of Our Fave Celebs Who Absolutely Rock Halloween
by Nikkya Hargrove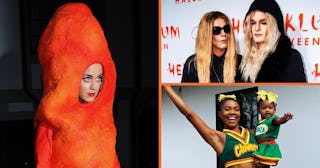 Scary Mommy, Gabrielle Union-Wade/Instagram and Chinchilla/Bauer-Griffin/GC Images/Gotham/FilmMagic/Getty
There is just something about Halloween that overwhelms me when it comes to deciding on a costume for myself. My main goal every year is to ensure that my kids make it around our neighborhood long enough to 1) tire themselves out sufficiently and 2) bag enough candy that they forget how much they have (which means more for me when I hide it and then find it sometime in mid-February). But celebs don't seem to have that problem, and they always have the best costumes. Some of our favorite celebs know how to BRING IT – Halloween style!
If you need a little inspiration (like I do) for Halloween, here are some celebrities who've got you covered.
Gabrielle Union and her adorable daughter, Kaavia James, relived the days when Gabrielle played a Clovers cheerleader named Isis in 'Bring It On.'
Who doesn't love some Ashley Graham? And her 2020 Halloween pick as Jessica Rabbit, I mean, come on … need I say more? Red bodysuit, accented with the sultry Jessica's signature red tresses, and the purple gloves. Swoon!
You might be slightly too young to remember Elton John's 1975 performance at Dodgers Stadium, but Harry Styles remembers it — or at least you'd think he does the way he nails this lewk. The glasses, the excitement, the sequins … YAASSSSS!
Katy Perry's costume is ingenious and simple. I am sure every parent can connect with the orange-stained hands, the slight stomach pains from overeating, or if you're really lucky, remember cleaning up that orange vomit from the car ride in which your son vomited his Cheetos all over the back seat. No, just me? Well, Katy looks so damn good in her orange getup, I just might be able to forget about my past Cheeto-induced trauma.
At this rate, I'd welcome the ability to relive the '90s and Jessica Biel and Justin Timberlake have us covered when it comes to a trip down memory lane. Do you remember Jessica as Justin circa his *NSYNC days?
I cannot be the only one who laughed out loud when Neil Patrick Harris and David Burtka dressed up as the Olsen twins one year. I mean, the blonde wigs, the black outfits, the perplexed, pained look on their faces, the matching makeup, the sunglasses — it all left me speechless.
I don't know about you, but I can't wait to see what celebrity Halloween costumes our favorites are planning to "treat" us to this year.
This article was originally published on