Expert Warns AI and Chat GPT Could Hit Kids "Like A Freight Train"
AI technology going to be a "huge issue" in kids' lives.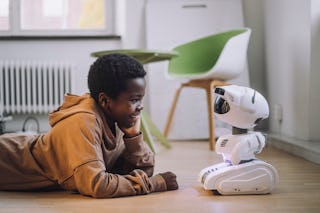 Maskot/Maskot/Getty Images
Advancements in accessible, easy-to-use artificial intelligence like ChatGPT and Bard has been so rapid as of late that experts believe the upcoming generations of children could be deeply affected.
Jim Steyer, the CEO of Common Sense Media, a nonprofit research and advocacy organization focused on children and families, told CNN that AI will transform the way kids are taught.
"ChatGPT and AI is coming down the tracks like a freight train. It's going to be a huge issue in our kids' lives," Steyer told CNN.
AI will transform education for children as it allows them to write essays and conduct research far more quickly than using current search engines, he told the media outlet.
He also advised that parents begin to become familiar and comfortable with ChatGPT and other AI platforms — much like the APA just suggested parents do for social media — to be able to manage the usage in the lives of their children.
"Parents are really concerned that kids can cheat with it, could become too dependent on it as opposed to doing the work themselves," Steyer told CNN. "So, we are going to have to make sure that as these major new AI platforms like ChatGPT come into massive use, that there are clear rules that schools know how they're being used."
Common Sense Media also put out a helpful guide for parents who are novices in the AI world. The guide includes a breakdown of what ChatGPT is, how it works, and proper usage for kids.
"If kids are interested in using ChatGPT, the best option is to use it alongside an adult. Kids could use ChatGPT with a parent or caregiver to get ideas about things they're interested in, like writing code or music," the outlet says.
"Families can explore the tool together and try prompts that are fun, inspiring, or helpful. Ask it to write a play with parts for everyone, or put together a poem in Yoda's style to read out loud."
Due to the limited knowledge of AI and especially ChatGPT, many schools are banning the technology due to cheating concerns. "The concern is that students could use it to do their schoolwork for them, from writing papers to solving equations. They could also be turning in work with inaccurate information," the outlet says.
"Educators are worried the program could affect students' learning if they rely on it. Check with your children's school to see if and how they allow students to use ChatGPT."
According to 2023 Common Sense Media survey, more than half (58%) of students ages 12 to 18 have used ChatGPT to write an essay on a Shakespearean play, or draft a legal memo that appears remarkably similar to what a human can produce.
While only 1/3 of parents have even used the tech one time. On top of that, only about 30% of parents had heard "a lot" about ChatGPT, compared with 54% of students.
Both parents and students are excited about the potential of AI in education. More than three-quarters of parents (77 percent) and more than nine in 10 students (92 percent) say they are interested in AI tools that might help them learn.
"These findings show that while parents and kids are generally optimistic about the potential of AI, they also see the potential for the extraordinary downsides," Steyer said in a statement. "It is clear that parents and all of society have a lot of catching up to do and need reliable resources and clear rules to deal with the impact of AI on our society and our kids."