Investigators Found Two 10-Year-Old Children Working At McDonald's
The kids were allegedly working at 2 a.m.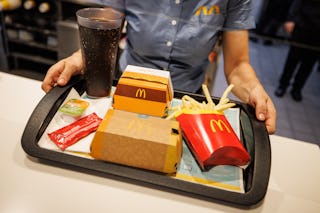 picture alliance/picture alliance/Getty Images
Billionaires and major corporations will whine about how "nobody wants to work anymore," but according to a recent discovery by the U.S. Department of Labor, that is not entirely true. People are definitely working, including children who should be at home in bed but instead are laboring at McDonald's, illegally, with no pay.
According to the U.S. Department of Labor, two 10-year-old children were found working at a Louisville, Kentucky, McDonald's restaurant — and they were reportedly sometimes in the kitchen until as late as two in the morning.
The agency also found that three franchisees that own more than 60 McDonald's locations in Kentucky, Indiana, Maryland and Ohio, "employed 305 children to work more than the legally permitted hours and perform tasks prohibited by law for young workers," the Labor Department said in a statement.
"Investigators from the department's Wage and Hour Division found two 10-year-old workers at a Louisville McDonald's restaurant among many violations of federal labor laws committed by three Kentucky McDonald's franchise operators," the release said.
"Investigators also determined two 10-year-old children were employed – but not paid – and sometimes worked as late as 2 a.m."
The two 10-year-olds allegedly employed by the fast food chain were children of a night manager who were allegedly visiting their parent at work and were not approved by franchisee organization management to be in that part of the restaurant.
Senior vice president and chief people officer at McDonald's USA, Tiffanie Boyd, told CNN, "These reports are unacceptable, deeply troubling and run afoul of the high expectations we have for the entire McDonald's brand. […] We are committed to ensuring our franchisees have the resources they need to foster safe workplaces for all employees and maintain compliance with all labor laws."
The franchisees face a combined $212,754 in fees for the child labor violations, the release said.
"Too often, employers fail to follow the child labor laws that protect young workers," said Karen Garnett-Civils, the agency's wage and hour division district director, in a statement.
"Under no circumstances should there ever be a 10-year-old child working in a fast-food kitchen around hot grills, ovens and deep fryers."
McDonald's recent controversy is not the first violation of child labor laws to make headlines recently. Just last December, Crumbl Cookies was fined for violating child labor laws. And a sanitation contractor employed dozens of children at meatpacking plants in Nebraska and Minnesota, according to the Labor Department.
The Labor Department is sought an injunction in Nebraska federal court against Packer's Sanitation Services Inc. (PSSI), alleging at least 31 kids had worked for the company in "oppressive child labor." The children, ranging in age from 13 to 17, were hired to do dangerous tasks such as cleaning hazardous equipment during overnight shifts before heading to school in the morning.
Their jobs included cleaning kill floors, meat- and bone-cutting saws, grinding machines and electric knives, according to the court documents. The children, both boys and girls, were not fluent English speakers and were interviewed mostly in Spanish, investigators stated. Many explained that they were vital breadwinners for their families.
These violations should make the American people stop for a beat and wonder how companies could ever allow something so disturbing to even happen, but, unsurprisingly, Republican legislatures are actually working on bills that would weaken child labor laws.
Republican state lawmakers in Wisconsin are working on a new bill that would allow workers as young as 14 years old to serve alcohol in bars and restaurants. The legislative proposal "creates a simple solution" to workforce staffing issues, said the Republican bill sponsors in a memo circulated to colleagues.
In 2022, New Hampshire and New Jersey passed laws extending the hours teenagers could work. New Hampshire lawmakers also relaxed rules regarding table busing and alcohol, allowing 14-year-olds to bus tables with alcohol.
New Jersey lawmakers bumped up the number of hours teens can work during the summer (to 40 hours a week for 14- and 15-year-olds and 50 for 16- and 17-year-olds.) Minnesota is working to allow 16- and 17-year-olds to work on construction sites, and Iowa wants 14-year-olds to work in meat coolers.
Republican Gov. Sarah Huckabee Sanders of Arkansas signed the "Youth Hiring Act" — a law eliminating the requirement that 14- and 15-year-olds need work permits. The work permits were deemed an "arbitrary" burden by Republicans even though they required proof of age, parent permission, and an employer's signature.
These bills are ways to strengthen the workforce without having to pay living wages — and it's at the cost of our kids (and guess what: it's usually kids from low-income and marginalized groups who are affected, not kids looking for a few extra dollars to go to the movies).
With all of these legislative pushes taking place to try and normalize children working, it's truly no wonder a couple of elementary school aged kids were found shelling out Big Macs in the drive-thru.