Chrissy Teigen Bares Her Belly Weeks After Giving Birth, People Lose Their Minds
by Kate Spencer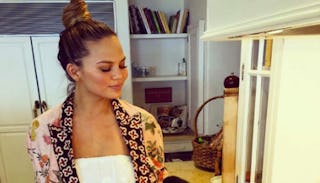 Image via: Chrissy Teigen's Instagram
The model, writer, and new mom posted a photo of herself wearing a crop top, and fans can't handle it
Chrissy Teigen has very quickly rocketed to the top of our Favorite Celebrity Mom list, what with her candid portrayal of motherhood on her social media accounts, her creation of delicious recipes, and her refusal to suffer fools. And boy, does she deal with a lot of them online.
To no one's surprise, people are over on Chrissy's Instagram with their comment guns a'blazing, all because the supermodel and cookbook scribe dared to post a photo of herself in a crop top just a few weeks after giving birth to her daughter, Luna. Because if there's one thing an internet mob loves, it's nitpicking a woman's body!
To no one's surprise, a few of the comments are of the finger-pointing, shaming variety. "Way to make new mothers feel bad about themselves," wrote one person. Luckily, others were quickly to call this idiot on their BS, because: calm down, internet commenter. The only person making people feel bad here is you.
But most of the comments on Chrissy's [related_post]photo — which shows her scrambling some delicious looking eggs while wearing said top, jean shorts, and a gorgeous silk robe — are positive. It's a lot of "holy crap girl you look amazing!" and "OMG how is this possible after a few weeks from giving birth?!" followed lots of different shocked or cry face emojis.
Let's break this down here with some obvious answers:
a) Genetics. Our bodies — and our pregnancies — are different. Some women gain 20 pounds. Some gain 80. Some of us get stretch marks. Some don't. We're all different. Hell, often each pregnancy and birth a woman goes through is wildly different from the other. One can be easy, the next a miserable pain in the butt. Such is the miracle of life, ya'll.
b) Diet, exercise, and drinking a lot of water never hurt.
c) Magic. Certainly this is the most reasonable, logical answer.
Even Kelly Clarkson weighed in, tweeting "She just had a baby! My train of thoughts…. #hateher #justkidding #kindofnotkidding #jealouslikeJonas"
We're happy the general consensus here is body positive, with most of the commenters marveling at Chrissy's "snap back" body. We agree — she looks awesome. Even so, the endless opinions people have about women, mothers, our bodies, and how we raise our children is exhausting. It's a never ending cycle of criticism and concern-trolling. [related_post]Chrissy's already been mom-shamed for considering hiring a night nurse and going out to dinner a week after giving birth.
We're glad the trolls who attempted to insult her for wearing a shirt of her choosing were shut down. And once people are done discussing her beautiful body, maybe we can return to marveling at all the other things she does. Mothering, modeling, TV hosting, and writing a New York Times bestseller are all things that deserve endless exclamation points and the shocked emoji face, too.
This article was originally published on