Ten Of Our Favorite Kids' Halloween Costumes That You Can Totally Pull Off Last Min
by Amy B. Chesler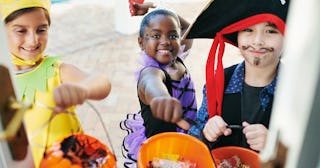 PeopleImages/Getty
I don't know about you, but one of our greatest yearly struggles as a family is choosing Halloween costumes.
First, it takes absolute fortitude just to get my kiddos to commit to a single idea.
"No, son, you may not be a bloody ninja-clown-Scooby Doo. Mainly because I don't want to buy three different costumes for you to freakishly morph into one by using a single accessory from each getup."
Second, let's talk about the rigidity it takes me to keep my kiddos from changing their idea over and over again as the weeks progress. I know I'm not alone here: when I finally do order or make a costume, I also have entirely threatened my own willpower. I know that I'll have to say 'no' to them a thousand times, whenever they ask me to change their costume plan over the next few weeks.
Which is why when I saw this brilliant post by Brandi Riley on Instagram, I couldn't help but snort-chuckle. We have all undoubtedly been there.
It's also why I thought I'd amass a list of our favorite kids' costumes for 2021 (in no particular order). Because we all need a little inspiration sometimes, and other people's super creative ideas is one reason why I love the Interweb.
Miguel from Disney's Coco
If your little one is a big fan of music and/or Disney movies, this cute little Coco costume seems both cost-effective and easy to pull off (as long as you've got a guitar for use.) While this kiddo goes full skeleton, the face paint is totally optional.
Freddie Mercury
Speaking of music fans, if your little one does a great, "Under Pressure" impression, this might be the perfect costume for them. Maybe throw in a pink tank and a black leather skirt if they're feeling a little more "Free."
Wayne and Garth
No one else on the planet loves music like Wayne and Garth, and there might not be a funnier costume than this classic pairing. It's perfect for kids and adults, alike, as long as you've got an epic mullet wig (or just an epic mullet).
Bernie Sanders — The Viral Version
I literally CANNOT with this Lil' Bernie. The hairline is perfection, and I'm already imagining how I could build a collapsible chair that little ones can wear while walking (via cardboard magic, of course).
Ruth Bader Ginsburg
Also for the politically-minded families (or even little ones), I am still not over this RBG getup. Little lady will absolutely flip over this costume when she's old enough to understand the icon her parents dressed her up as.
Somebody's Grandparent
While I'm on the subject of geriatric babies, there are never enough in the world. Plus, this guy's 'wig' of cotton balls looks like a super fun project for the littles to join in on.
https://www.instagram.com/p/CUH74Dcg3FB/?utm_medium=copy_link
The Sanderson Sisters
If your kiddos are a little more into the traditional Halloween spirit/fun, you can never go wrong with the Sanderson Sisters. "Oh look! Another glorious [Halloween]. Makes me sick!"
Pennywise
This one may not be so traditional for kids, but I think that's what makes it so epic? Clearly maybe only try IT if it's age/individual-appropriate, or your kid just loves to be creepy. Just don't let them wear it to school.
A S'more
If you're looking for something a bit, I dunno… sweeter… here's the perfect choice. I've seen some pretty epic food-related costumes, but this one takes the s'more… er, I mean, cake. PS could this kiddo be any yummier?
Madeline
Last but not least, I also loved this darling take on kid-lit heroine Madeline. Madeline emulates bravery and fortitude; any kiddo would adore pretending to be her for an evening. And every parent will enjoy the process of piecing together such a simple costume that is wearable long after Halloween.
https://www.instagram.com/p/CUoETasv1ik/?utm_medium=copy_link
By the way, a huge "Thank you!" to all of the lovely accounts that shared their kiddos' costumes already this year, so I can gain some inspo from their preparedness. If you're like these parents and plan to post costumes early (and not like me who waits to pull them together at the last minute), you're awesome. I've got just under three weeks to go, and I'm not sure I've got the necessary willpower to survive it without buying six costumes for two kids. HALP.
This article was originally published on