They Were About To Be Empty Nesters – Until They Adopted Seven Kids
by Rachel Garlinghouse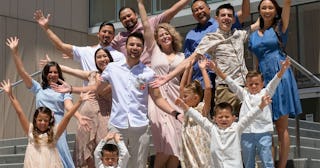 Pam Willis/Instagram
Pam Willis, an attorney, and her husband, Gary Willis, now retired from the military and the post office, were about to be empty nesters. Their youngest of five children would soon graduate high school. Some of their other kids were married, and the Willises were enjoying becoming grandparents. Life was settling down a bit, until a Facebook post changed everything.
The Willis family started fostering in 2013, without the intention of adopting. That is until Pam spotted a post about seven siblings, ages one to twelve, who lost both of their parents in a tragic car accident. "When we saw the news story about these kids needing a forever home, it hit us both so hard that we knew we were the ones who were supposed to be their parents."
Pam and Gary learned that the children had miraculously survived the accident, but had injuries, some quite severe. The children's parents had both been in foster care as kids, and now their seven children were in care. After the accident, the kids were moved from their hometown, to a homeless tent shelter, to housing in San Diego.
In March 2019, Pam and Gary met the children. They progressed to weekly visits, and then overnight visits in the Willis' home. On June 7, 2019, the seven kids moved in with Pam and Gary. Adoption and foster care systems require many steps before children can officially be adopted, and the Willis family experienced an additional hurdle. The pandemic caused their local courts to close, just four days before they were scheduled to finalize the children's adoptions.
Luckily, they were able to proceed with finalization several months later, on August 7, 2020, via Zoom. In 2020, Gary also retired and the couple's youngest biological daughter graduated high school. Pam continues to work, while a nanny assists Gary, now a full-time dad, with keeping up with the children during the day.
What's a typical day like in the Willis home? Pam shares that the family has a daily routine that involves meals, doing school work, and lots of outside play. Skating, jumping on the trampoline, swimming, and riding bikes keep the kids active. Weekends are all about family time, visiting the kids' new older siblings, going to the park or beach, and playing with their new nieces and nephews—their new siblings' children.
The children are now fifteen, thirteen, nine, eight, seven, five, and four. Pam has enjoyed "the joy of watching new experiences through a child's eyes," including taking her kids to Disneyland, horseback riding, and visiting the beach. The children's personalities are "blossoming" and Pam reports that they kids are settling in and feeling more secure after years of upheaval.
However, any foster parent will tell you that one of their greatest challenges is helping kids navigate trauma. Pam shares, "Childhood trauma manifests so differently in every child." Drug addiction, homelessness, violence, special needs, death, abuse, and neglect are unfortunately common experiences among children who come into foster care. Pam notes that her and Gary's years of foster care experience helped them be better prepared to help their new children.
COVID-19 has definitely compounded the family's struggles. School plans have evolved from virtual to hybrid to in person, causing a constant slew of change in routine. Her kids miss being in sports, art, science, gardening, and drama clubs. However, more home time has allowed the kids more bonding time with each other and their parents, as well as time to learn new skills, like riding a bike.
In the United States, there are 400,000 children in foster care and 120,000 children are waiting to be adopted into their forever family. Unfortunately, 200,000 youth age out of the system each year without a family to love, support, and guide them. Pam suggests that anyone interested in becoming a foster parent investigate orientations and trainings in their area. Don't be afraid to ask questions.
She notes that "the transformations" children experience "is so rewarding." She notes that she and Gary "watched it happen in our home over and over and over again, no matter what the age of the child." They've had the honor of watching her kids "grow and thrive into these wonderful human beings who feel secure and loved!"
This article was originally published on