A Dad Shows How He Helps His Wife Before Leaving On A Work Trip
Can you get one of these on Amazon?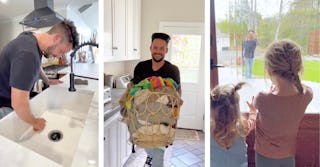 TikTok / @dadsocial
My kid just battled the stomach bug, and now my husband is just as sick as she was. I know that I will soon be next. So, what am I doing to prepare? Cleaning up the house, getting ahead on laundry, confirming schedules, and making sure that all the dishes are clean.
I'm doing everything I can to make sure that, if I go down (and let's be real, I'm going down), my husband will have smooth sailing for the weekend with our kid.
While part of this is my control-freak tendencies and part is also that I, too, have a husband that just sometimes doesn't get it, I know I'm not alone in wishing he would.
One dad on TikTok is going viral, however, because he does get it, and the internet cannot comprehend.
Mason Smith (@dadsocial) shared a TikTok video where he shows every household task and thoughtful gesture he completes for his wife and kids before he heads out for a few days on a work trip.
"We all know who has the harder job over the next two days… #MomsRock #girldad #husband," he captioned the clip.
To make mom's job a little easier while he is away, Smith first heads to the store to pick up some new crafts and activities to help keep his two daughters busy for a bit so his wife can wind down. He also adds wine and coffee to the cart for mom — as well as a bouquet of flowers — not to mention a few easy food items for all.
Smith then heads home to take care of some of the household duties including doing the dishes, cleaning the kitchen, picking up around the house, and taking care of the laundry.
He packs his own bag for his trip like a grown a*s man, and then sets up the surprise grocery store items for his family along with a handwritten note for each family member that surely says something supportive and gracious.
When his family gets home, everyone is all smiles before he heads out on his trips.
The video — which has gained over 1.7 million views in just a day — caused quite a stir, leaving several TikTok users to comment with their appreciation for Smith as well as some utter confusion because... men do this kind of stuff?
"I think mines broken," one user joked.
To which Smith replied, "I'm dying 😂😂😂"
Another wrote, "Wait This exists? We don't have to parent our husbands??? I'm confused."
"Y'all deserve even more! 😭" Smith replied back.
Another TikTok user said, "There are men out there that do this 😱 Mine needs to up his game. And sharing to him now."
"I'm so aroused, respectfully," another wrote.
One commenter pointed out that Smith is doing so much more than just pulling his weight in his husband and fatherly duties.
"I always say my husband is setting the scene for our daughters future partner and who our son will emulate. Well done sir," they wrote.
While, yes, Smith's proactive and helpful nature is surely appreciated by his wife, the comments left on this video — women totally befuddled over Smith's initiative — are actually pretty sad.
Even in 2023, equitable division of household duties in a heteronormative marriage is still a far off dream.
Recent data revealed that most mothers still feel like they need to "do it all."
Fifty-eight percent of moms surveyed reported they are the primary parent, responsible for the duties of running a household and family management. That result is up 2% from 2022.
To add insult to injury, 51% of those who say they manage most of the household chores are also working full-time. Even when moms are the ones bringing home the bacon, they still do more chores than their husbands.
Smith's video — showcasing a husband/dad cleaning, shopping, and doing the laundry — should not leave so many women wondering why their husbands do not do the same. Smith should be the rule, not the exception.