Dad Creates Diaper Bag For Men After Realizing Selection Sucked
by Christine Burke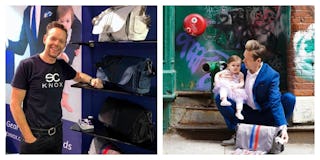 Photo credit: Adam Masry Photography
As Gavin Lodge and his partner were anxiously preparing for the birth of their first child eight years ago, it quickly became apparent to Lodge that diaper bags were not designed for men.
After scouring big box baby stores as well as high end boutiques for a diaper bag that didn't have a feminine color scheme or garish patterns, he and his partner settled on one of the only bags they could find without a floral pattern.
As he settled into parenthood, Lodge says he wanted baby products that celebrated the fact that he was a proud father — and those products simply didn't exist. So, Lodge set out to change the landscape of products marketed to fathers. And he started with, you guessed it, diaper bags.
In four-hour increments — in between preschool drop-offs, play dates and laundry — Lodge slowly but surely built his company, E. C. Knox (using the initials of his two children) and designed his diaper bag.
"The baby industry is understandably geared toward moms. None of that spoke to me, so I set out to change that," Lodge says of his diaper bag company, E.C. Knox.
Though his company was initially geared towards dads, Lodge is quick to point out that E.C. Knox is aimed at moms, too. "I've never intended to say 'This is only for dads,' because I don't want to play that game. Moms are invited, too, and, truth be told, many of my girlfriends say, 'Hell, I'd carry that bag! Screw my husband!'" he jokes.
Lodge says that because dads are taking on equal parenting roles more than ever and society is assuming less that dads are bumbling goofballs, his company feels more relevant than ever. Lodge says, in creating stylish products for dads, he's hoping to allow men to feel more comfortable in their parenting role. "Men are just as capable and increasingly involved — by choice. I want to give them something that announces 'I'm a proud dad.'"
"I simply noticed a gap in the marketplace for stylish dads so I've run with it," Lodge shrugs.
And run with it he has.
Since launching three years ago, E.C. Knox bags have not only landed on the shelves of Barneys New York and boutique baby stores around the country, but this past June, E.C. Knox was also officially rubbing shoulders with royalty when a British publisher came calling.
"Being sought out by a British publisher because E.C. Knox is on-brand with Prince Harry and Meghan Markle was inspiring at a time when I was second-guessing everything," he says. The book, "Our Royal Baby" featured baby products that mirrored the royal couples' streamlined style and Lodge was thrilled that his "Frenchie" bag (now dubbed the "Windsor" in a nod to the famous couple) was selected to grace the pages of the glossy coffee table book.
Though his company is taking off, Lodge is quick to acknowledge that it takes a lot of time (and money) to be an overnight sensation. "I've been over-confident with how much I could accomplish, single-handedly, and I've had my ass handed to me on an expensive platter in terms of the assumptions I've made and how 'easy' this would be," Lodge tells Scary Mommy.
Still, Lodge says, "Parenting is a life long journey of rolling with the tides and problem-solving…just like entrepreneurial creativity."
And to the parent who is thinking of taking the entrepreneurial path, Lodge advises, "Just take the leap and don't look back because, well, you're already not sleeping, right? Why not make those first few phone calls to friends and friends of friends to figure out how to make something work?"
"There is nothing like the fire felt within a parent who's in the throes of extreme fatigue and yet constantly thinking 'You know what would make my life better?' It's a creative and exhausting time," he tells Scary Mommy.
Lodge realizes, too, that few of us actually need any of the things included in "baby gear" marketed to both moms and dads. "We could just throw shit into a backpack and call it a day," he jokes.
But when he arrives at play dates and preschool drop off, sporting his bag and fathers tell him they wish they'd had an E.C. Knox bag when they were new dads, he knows he's on to something. "Hearing, 'I wish this had been around when I had a baby…but I'm using it now and love it,' is testimony that I've designed something that lasts and has multi-functions," he says.
Lodge says one of the most gratifying parts of building his company from the ground up is the example he's setting for his kids, ages 8 and 6. Though juggling full time parenting with managing a startup company hasn't been easy, Lodge hopes his children take to heart that they shouldn't sell themselves short if they have an idea they want to bring to fruition. And he wants them to know that people are willing to help you along the way, when you are spearheading a new challenge.
"I'm not exactly where I want to be, but I think I'm where I need to be and that's a great lesson for my kids," he smiles.
This article was originally published on