Skip The Toy Store And Make This DIY Project With All The Crap Your Toddler Really Wants
by Ashley Austrew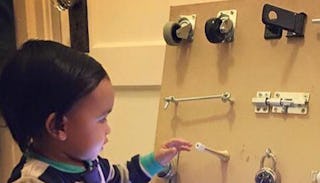 A dad built the ultimate toy made of household items toddlers love
If you've ever spent a fortune on fancy kids' toys, and then looked on helplessly as your toddler played with everything in the world except what you bought, this one's for you. A dad just created the ultimate toddler activity board, and it's made entirely from things you probably already have around the house.
RELATED: 23 Truly Fun DIY Kids Activities To Keep Your Kids Away From Boredom
Imgur user teachezofpeachez recently shared a photo of this insanely creative homemade toy they describe as "dad's way to keep 'em busy."
Featured on the "busy board" are wheels, lights, key chains, a deadbolt, a phone, a toilet paper holder with an empty roll, and even a calculator — all the things kids are just begging to play with anyway, and all in a place where they can't get lost or cause any real harm. It's sensory play taken to new heights, and the best part is, it won't leave a huge mess.
Since the photo was shared, it's been viewed over two million times, and dozens of parents have left comments saying what a great idea this is. One person suggested adding zippers, and another said the innovative parents should take their idea straight to the investors on Shark Tank.
Some expressed concern about babies poking themselves or pinching their fingers with the objects on the board, but for most of us, these are things our kids go after anyway. Having them all in one place makes it convenient to supervise while they play, and it's way cheaper than buying a similar activity board from the store.
When everything is added up, the cost of building this activity board would be about $65 or less, assuming you bought everything on the cheap and used the stuff you probably already have sitting in a junk drawer somewhere. To buy one that was made professionally? Well, you're looking at spending at least $115. That's the cost of this "locks and latches activity board" on Amazon.
Toys are expensive, but the cool thing about the internet is that we're constantly being presented with creative, cheap ideas for keeping our kids occupied. There's no end to the awesome DIY toys and activities we can dream up, and certainly no limit to what kids will enjoy using.
RELATED: Easy DIY Home Projects Literally Anyone Can Take On
There's nothing wrong with spending $25 on a single singing plastic toy at Target, but as this activity board shows, it can be fun to incorporate some convenient household "junk" into playtime as well.
This article was originally published on