Dads Are Better Than Moms At Managing Toddler Tantrums, According To New Poll
The average toddler throws 4 tantrums a week.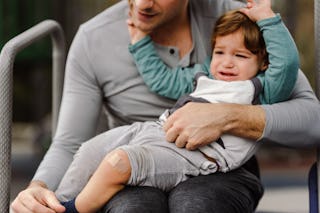 Fly View Productions/E+/Getty Images
Toddler tantrums are no joke. The emotions spilled when a child has lost their mind over something minute (or major!) can flood an entire house and then some. And it turns out, according to new research, that dads might have the upper-hand when it comes to mitigating those meltdowns.
According to a new survey where 1,000 moms and 1,000 dads of kids ages 0-4 were polled between Feb. 24 and March 7, 2023, parents have a disagreement with their child every other day. The average parent compromises with their child about four times per week.
Conducted by OnePoll on behalf of Baby Magic, results also showed that dads have a slight edge over moms with tantrum control with a close results of 45% vs 42%.
And while dads may have the magic when it comes to calming down an angry toddler, half of parents polled said they split parenting duties equally.
Parents split household and parenting tasks like running errands with the kids (53%), reading to them (49%) and utilizing teachable moments (48%).
When it came to which parents wave the white flag with their obstinate toddlers, moms were more likely than dads to deal with bedtime compromises (59% vs 48%), while dads find themselves bargaining more over bath time (37% vs 28%).
Though everyone family goes through their rough spots, over half of parents polled claimed to have mastered bath time, bedtime routines, morning routines, and snuggling and bonding time. That's a lot of confident parents.
Parents were also polled about kid's messes and the frequency that parents are left to clean up solo. According to new research, the average parent cleans up at least one mess their child made per day.
Spilled food (72%), residue left from mealtime (70%) and dirt from playing outside (59%) rounded out the top three most common messes for parents to clean up.
This is probably why 50% of parents are embarrassed by their messy homes.
"From toys scattered around the home to sticky hands after mealtime — there will always be some sort of mess to clean up when you're raising little ones," said Hazel Smith, Senior Marketing Manager at Baby Magic.
"But moms and dads agree, with the messy chaos of our lives it's the slower, present moments that create lifelong memories."
However, those lifelong memories also come with life lessons because, let's face it, navigating the wild world of raising a human is not always smooth sailing, and 76% of parents admit to making mistakes.
Unsurprisingly, mothers were more likely to feel guilty than dads when they made mistakes (59% vs. 44%), and when parents sought out advice — over half reached out to their own parents.
"We have played an integral role as parents, transcending through generations of trust with grandparents, parents and children to create those precious moments of togetherness," Smith remarked.