An American Mom Shares The Utter Magic Of Danish Playgrounds
Denmark's play spaces have everything from beer to babysitters.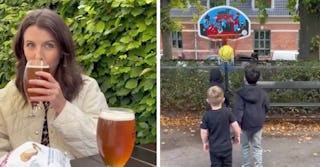 Instagram / Annie Samples
Once I heard that parks in Copenhagen have beer and Aperol Spritzes at the ready, the crippling anxious introvert inside of me wanted to pack my bags immediately. You mean there's a way to enjoy the playground with my kid, take the edge off of the social aspect with an adult beverage, and it's all safe and legal? A real life dream come true.
For the people of Copenhagen, they live this fantasy every day, and it's hard not to be jealous. Annie Samples is an American mom living with her family in what she describes in her Instagram bio as a "real life wonderland." She recently posted a Reel describing how parks in Copenhagen differ from American parks — and the polarity could not be more staggering.
Samples explained that for Copenhagen residents, parks and playgrounds are a space for the entire family. "Most Copenhageners live in apartments, so our parks function as our backyards and are super important for family time and socialization," she explained.
She starts off noting that the parks have clean bathrooms with functional diaper stations. "Thanks tax dollars!" she jokes.
Samples goes on to list other amazing amenities that some Copenhagen parks come equipped with, like restaurants, coffee kiosks, and literal bars. Yes, you can pull up a chair and sip on a lager while your kid burns off energy. This is also completely legal.
And hey, if you don't feel like watching your kid while you catch up with a neighbor or get in some mommy doom scrolling, some playgrounds are staffed with babysitters so the kids can participate in supervised play and you can get a little break.
These staffed playgrounds have indoor areas with board games and toys as well as vehicles that kids can ride as well as animals the kids can learn about. Samples shared that all three of her kids learned how to ride bikes by the same trafiklegepladsen staff member.
To back up to that fantastic word, trafiklegepladsen is a mini-traffic playground that is a replica of a town with working stoplights where kids can come and play, ride their bikes, and learn about traffic safety.
So. Cool.
The parks also have working splash pads in the summer and skating rinks in the winter where families can build fires and sip on "glogg" which is basically mulled wine and perhaps the best example of onomatopoeia that exists.
"Overall, I think the city does such a good job of providing the perfect backdrop to let the good times roll," Sample said in a voiceover on the video.
Unsurprisingly, Americans flooded her comment section with their opinions on this dream-like park life in Copenhagen.
"A whole arena of public good and pleasure that the USA has abandoned. This is so impressive! I would be willing to pay so many taxes to create this kind of experience and dedication to people's lives," one user wrote.
Another wrote, "That's what it's look like growing up in a place that values children ❤️"
Many chalked this up to the taxes that Copenhagen residents pay versus that of Americans. And yes, there is a huge difference. The United States' tax rate is 37.7 percent
Meanwhile, Denmark has one of the highest tax rates in the world at 53.2 percent. But it seems like those taxes do not go to waste.
In 2021, the vast majority of Danish children reported a high level of well-being, according to a survey from the Copenhagen-based think tank Mandag Morgen and the Lego Foundation.
And it's not just kids who are being taken care of. Expectant mothers have free access to doctors and midwives, new parents are entitled to 24 weeks of paid leave each, as well as five home visits from a nurse in their child's first year.
Babies as young as 6 months old are guaranteed a spot at day care, which is highly subsidized, and when the kids grow up, both preschool and college tuition is free.
Why do I live here again? BRB, downloading the Danish language course on Rosetta Stone and convincing my husband to move.