Disney Princess Subscription Boxes Are Here And The First One's Belle-Themed
by Thea Glassman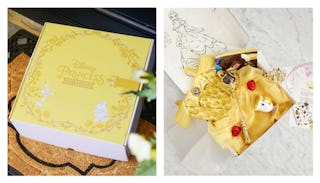 Image via Disney
These Disney Princess Subscription boxes will bring all of the enchantment
Is your whole fam in need of a big boost of magic? If so, we'd like to turn your attention immediately to the Disney Princess Enchanted Collection Subscription Box. It's a ridiculously cute monthly package of goodies – and the first one is Belle-themed. Time to turn on "Be Our Guest" at full volume immediately.
RELATED: Best Disney Toys To Keep Kids Living Their Most Magical Lives Right At Home
Here's the whole delightfully sparkly deal. There are two options to choose from: the basic one and the deluxe one. The basic version comes complete with a princess dress, a read-along storybook, a letter from a princess, stickers, and princess activities (I don't know what those entail but count me in). It's a $50 subscription per month that you can sign up to receive for a year – which means just so much princess magic.
The deluxe version includes everything from the basic version along with a video greeting from a princess and 2-3 additional princess toys and accessories. It's $75 each month and just prepare to drool over the contents of this box. We know that it's no longer socially appropriate for us to wear Disney gowns but we WISH it was.
There's a new princess for each box so you'll be getting a delivery from Moana, Ariel, Jasmine, and Cinderella. The gang is all here and it feels very, very good.
If this all sounds extremely lovely but you're not sure you want to commit to a subscription box (fair), we'd like to turn your attention to some other Disney princess items that are just as magical and much less of a commitment. Like this Snow White compact mirror that will make the whole family feel like they're the fairest of them all.
Or this Disney Princess eye mask that you will secretly very much want for yourself.
Or this Belle backpack, that you'll also deeply want for yourself. I mean, just look at that cherry red.
Your house will officially turn into a Disney kingdom and there's literally nothing wrong with that. Bring on all the glass slippers.
This article was originally published on