Disney's Evil Queen Has The Sweetest Moment With A 15-Year-Old Boy
The Queen dropped her normal snark for a softer tone.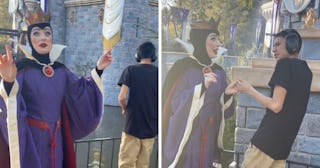 Magic With Thomas / TikTok
Disney cast members who play the roles of some of the most beloved Disney characters of all time have pretty much perfected the characters they embody. Even as an adult, conversing with a Disney character at the parks can be one of the most magical experiences.
Every Disney favorite — from Cinderella to Gaston — have at some point walked the grounds of a Disney park, interacting with park-goers as if they were the actual character from the movies, and they never break character.
Disneyland's Evil Queen, however, turned out to be "not-so-evil" when it came to her chat with a 15-year-old boy.
In the now-viral video, TikTok account @MagicWithThomas — an account run by Thomas' dad — documented 15-year-old Thomas' special encounter with the Evil Queen.
TikTokers are applauding the Disneyland actor for her level of commitment to Disney guests — especially those on the autism spectrum, as in Thomas' case. Thomas' dad has described his son as a "special needs teen."
In the footage — which has been viewed over 2.2 million times — the Evil Queen offers Thomas to have a feel of her cape, seemingly made a velvet. "Would you like to feel my cape?" she asks Thomas who is holding a fallen leaf.
"It's almost as soft as that leaf," she notes as Thomas starts to feel along with her.
"Do you like that?" she asks softly.
"Sensory QUEEN🤌🍃💜😍" one TikTok user commented.
"She understands he likes to touch and feel things," another user wrote.
She then invites Thomas on a walk. "Here take my hand," she says to the teen. "Let's stroll throughout the kingdom."
The Evil Queen and Thomas walk along the path as Disneyland visitors look on. "Make way for royalty!" she yells, holding Thomas' hand.
"Thomas is safe and understood [at Disneyland]. Cast members take good care of him and they show a genuine happiness/excitement to see him," Thomas's dad writes in the video.
In another clip — showcasing the adorable friendship between Thomas and the Evil Queen — she and the teen walk near the water, admiring Sleeping Beauty's castle.
"This is a better angle. If only there was a mirror here to see our reflection," she says to Thomas.
She then asks him to post with her for a picture. "I think it'd be a lovely idea," she notes.
One user commented that she loved the video as a fellow parent of a child on the autism spectrum, but watching Thomas' interaction gives her hope that she may take her son one day.
"I haven't taken my kids to Disney yet because I'm worried my autistic son will get overstimulated. I love [that] the cast members are so kind," she wrote.
"The cast members are amazing," Thomas' dad replied.
Thomas has several adorable interactions with Disney characters at the park, including Encanto's Mirabel and Mickey Mouse himself.
Hundreds of thousands of TikTokers have expressed their love for the Evil Queen's gentle, engaging behavior with Thomas — and all of Disneyland's character actors.
"'Why do you love Disney so much?' This. This is why," one user wrote.
"THIS! This is the Disney we know and love," commented another.
"Whatever they are paying cast members, it isn't enough. it's truly beautiful to see them interact with people with special needs," one user commented.
Disney cast member's pay is a factor that Thomas' dad is working to try and change. He showcases several videos of some of the amazing characters interacting with Thomas on their TikTok account.
"Cast Members deserve better pay for creating the Magic for guests," he captioned one of the videos.
Disney parks are known for being one of the most fantastical and magical places that a person can visit. That is because of the people who are in the parks, interacting with the guests, and doing all they can to make it a memorable experience for guests.
Like Thomas's dad said, cast members are the magic.