These Books Will Give Your Kids (And You) A Great Message About Body Positivity
by Elisha Beach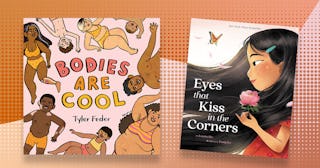 Scary Mommy and Bookshop.org
Body positivity… It is a concept that we have seen explode across social media over the last decade. And it is fantastic to see people pushing against "accepted" beauty standards and promoting the much-needed message that ALL people deserve to have a positive body image. But those of you that have struggled with your body image can understand that being body-positive is an easy concept to understand but not always the easiest thing to practice.
Like many, I have struggled with body image throughout most of my life. And as much as I would like to believe otherwise, body positivity is something that I have had to teach myself actively. It's hard not to compare ourselves to images of "beauty" that are shoved down our throats every day as we scroll through social media. And having kids has made me even more aware of this.
The truth is our kiddos are also constantly exposed to messages about their bodies and how they compare to others. Research shows that children begin to talk about body issues as young as five years old. And in this digital age, it is almost impossible to protect our kids from all of it. So the best thing we can do as parents is empower our kids to love their bodies and recognize that good bodies come in all sizes, shapes, colors, abilities, and more.
And one of the best ways to teach valuable lessons and start important conversations about body positivity to young kids is through books. So here is a diverse list of books for young kids that help build body confidence and promote the acceptance of all bodies.
Bodies are Cool by Tyler Feder
This is a cheerful picture book for young kids that celebrates bodies of all shapes, colors, and sizes. It celebrates everything from scars to body hair to missing limbs to freckled bodies and even insulin pumps. The lively illustrations instill body acceptance and confidence in the youngest of readers.
I Like Myself! / ¡Me gusta cómo soy! Written by Karen Beaumont and illustrated by David Catrow
This bilingual book is an "ode to self-esteem." It uses silly descriptions like "Beaver breath" that highlight the joy of loving yourself and will have your little one giggling right along.
I Am Jazz by Written by Jessica Herthel and Jazz Jennings and illustrated by Shelagh McNicholas
Trans activist Jazz Jennings cowrote this story about a transgender child. It's an autobiographical picture book sharing her experiencing embracing her true self.
This sweet little picture book beautifully celebrates diversity. It celebrates differences whether someone is big, small, curly, straight, loud, quiet, smooth, or wrinkly, coming to the conclusion that we are all LOVELY!
Love Your Body Written by Jessica Sanders and illustrated by Carol Rossetti
This empowering and inclusive book is geared more towards girls. However, it is a great read regardless of gender or sexual orientation, filled with affirmations and encouragement of self-care, self-love, and acceptance of others.
Julián Is A Mermaid By Jessica Love
This is the perfect book for little boys who have been made to feel "too girly" or "too much." It shares the story of a young boy Julián, beginning to show his love of mermaids and wanting to dress like them. It's a great story celebrating individuality and the importance of loving support.
Her Body Can Written by Katie Crenshaw and Ady Meschke and illustrated by Li Liu
This kid's book shares an unapologetic message of self-love! "Her Body Can" shares the story of a "plus-sized" kid living her best life. Authors Katie Crenshaw and Ady Meschke wanted to create a body-positive story that didn't stem from self-hate and shows that "all bodies are inherently good, capable and miraculous."
Laxmi's Mooch Written by Shelly Anand and illustrated by Nabi H. Ali
This body-positive picture book is about a young Indian American girl's journey to accept her body hair and celebrate her heritage. When teased about her mustache, Laxmi's parents help her love not just the hair that grows on her head but also the hair that grows everywhere.
Eyes that Kiss in the Corners Written by Joanna Ho and Illustrated by Dung Ho
This picture book focuses on self-love and empowerment. Ho beautifully celebrates Asian-shaped eyes and family heritage with powerful, poetic sentences such as, "I have eyes that kiss in the corners and glow like warm tea."
A Boy Like You Written by Frank Murphy and illustrated by Kayla Harren
This book teaches boys that it's ok if they don't fit a particular mold. They don't have to like sports or "keep a stiff upper lip." It celebrates all the wonderful ways to be a boy and encourages readers to be unique.
This article was originally published on