We Put These Eco-Friendly Diapers To The Test & They're Actually Very Good
We only recommend products we love and that we think you will, too. We may receive a portion of sales from products purchased from this article, which was written by our Branded team.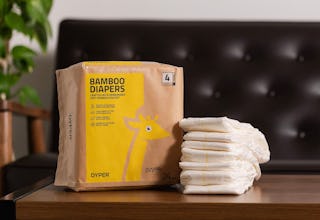 I really try to be kind to the environment. I'm not a pro all the time, but I try to be a reasonably gentle citizen of our planet. I choose lunchboxes with reusable containers instead of using disposable sandwich bags. I embrace handed-down clothing and shoes when they're offered. I try to choose soaps, lotions, and sunscreens that are better for the planet, and I pay attention to which brands use recycled packaging and sustainable resources.
But there's one place where I've struggled to be more eco-conscious, and that's diapering. I tried the cloth diapering thing with my oldest, and I even gave it a go one more time with my second, but both times, it just wasn't for me. I never could get the hang of it.
When my third came along, I skipped cloth and went straight for the disposable brand I used for my older kids, but I never felt great about it. She always seemed so uncomfortable in them. Her skin is much more sensitive than my other babies ever were, and she's a heavy night-time wetter. She was waking with a pink tush more often than I care to admit, and I found myself wondering why I was compromising on my desire to minimize our family footprint for diapers that weren't really holding up their end of the bargain.
There had to be a cost-effective way for me to avoid the cloth diapers that don't work for me while making sure that I wasn't adding more and more diapers to a landfill. That's when I discovered eco-friendly DYPER Bamboo Viscose Diapers, and decided to test them out. Spoiler: I'm hooked.
DYPER makes plant-based disposable diapers that are more friendly to the environment than the leading brands. They're made of viscose from sustainably-sourced Bamboo, and I love how they feel! They're super soft and absorbent, and they're plant-packed with less yuck. Diapers by DYPER are totally free of fragrance and are unprinted, and contain no chlorine, latex, alcohol, or lotions.
Here is the thing that truly sets DYPER apart: When you choose to use their REDYPER service, DYPER brand diapers are compostable. You can't just toss them in your backyard compost heap, but for a reasonable fee, you can literally set your used diapers on your doorstep. DYPER will pick them up and compost them for you ensuring a guilt-free, hassle free diapering journey. GENIUS!
DYPER's subscription-based service means I will never have to think about buying diapers again. I can just log in, choose my size and shipping interval, and my monthly box of DYPER will show up at my door. Their motto is "Never run out. Never too many. Save the bum. Save the Earth." Save your time! Save your sanity! I never imagined making a more responsible, better diapering choice would also be so convenient — and the brand is currently offering 70% off diapers or training pants plus three packs of premium 3D textured baby wipes. Yet another reason to give them a try for yourself.
DYPER brand diapers are the perfect thickness, never causing a droopy hiney in my busy toddler. I'd tell you how they stand up to blowouts, but I wouldn't know. Since we switched to DYPER, we haven't had a single one. My theory is that this has to do with the superior absorbency and the well-engineered leg openings, but honestly, as long as everything that comes out of my baby stays in her DYPER, I'm not asking questions.
They look so comfy, and they stay in place the entire time she wears them. DYPER's waist band never rolls or sags. DYPER fits my daughter like yoga pants, moving with her to accommodate every accidental plough pose, bridge pose and downward-facing dog that my wild child can squeeze into her day.
If you're looking for an amazing quality diaper that is gentle on your baby and on the home we all share, DYPER is the way to go. Use code SCARYMOMMY to get 50% off DYPER when you subscribe, or click here to take advantage of their current promo for 70% off diapers or training pants plus three packs of premium 3D textured baby wipes!