These Swimsuits Will Make Your Day At The Beach 1000 Times Easier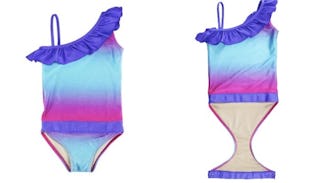 Image via FASTEN
Finally, a better-designed one-piece bathing suit and leotard for girls — and they're super cute, too
When you're at the beach, pool, or lake with your little girl, there's perhaps no more hated to hear than, "I have to pee." If they're wearing a one-piece bathing suit, it means not only getting to a bathroom, but also peeling off a wet suit, preventing that wet suit from falling on the dirty ground, and then getting that (increasingly cold) wet suit back on their bodies.
It's not fun for anyone, and now it doesn't have to happen at all anymore. A new swimsuit company for girls ages six months to 10 years now offers one-piece suits that are classically styled but also way faster and easier when it comes to diaper changes and bathroom breaks, due to magnetic fasteners on the waist of their products. The company is called Fasten, and not only are the suits insanely practical, they're also super cute.
Here's how they work: they have a hidden row of magnetic fasteners around the front of the waist that easily snap off in the restroom. The hanging bottom of the suit can then be pinned to the back of suit via another hidden magnet located near the neck. No more getting entirely naked just to pee in your one-piece.
The patent-pending suits also offer UFP 50 sun protection and come in a variety of cute styles. They are also all on sale for the end of summer right now, at a price of $24.99 down from $34.
This is a great option for parents who want their kids to have full sun protection that two-pieces often don't offer, or who have their kids in swim lessons that require one-piece suits. They seem to be particularly popular with babies who are also sporting swim diapers as well as toddlers who are currently potty training or who have only recently been potty trained — because with that crowd, every second counts.
We know what you're probably thinking: Oh my god, why don't they also make leotards!? Well, they do, in both pink and black options. And they're adorable. This might be even more revolutionary than the swimsuit idea, since leotards don't come with the two-piece option as far as we know.
The FASTEN owners also say that, in addition to working on getting their idea patented, they're also working on a line of similar one-pieces for women — because guess what? Wrestling with wet, clingy, cold one-pieces in the bathroom isn't fun at any age.
The reviews are positive so far — and the styles are adorable. Here's to one less headache while at the beach with kids.
This article was originally published on